The Ultimate Virgin Voyages Restaurant Guide With Menus
Embarking on a Virgin Voyages ship means setting sail on a culinary adventure. With over 20 eateries to choose from, this cruise line offers a diverse range of dining options that cater to every taste and preference. Michelin Star chefs have designed for Virgin Voyages some of the best food and menus at sea. And no guide to Virgin Voyages food would be complete without a menu of food and drinks. Download sample menus as we introduce some of the restaurants to you.
The 3 Lady Ships, Virgin Voyages' Scarlet Lady, Resilient Lady & Valliant Lady, sail to some of the best destinations in the world such as the Caribbean, Barcelona, Greek Islands, Australia and even Dubai. Let's dive into the mouth-watering world of dining on board Virgin Voyages.
We've all sailed several times with Virgin Voyages and have even more booked too. The food and drink offering is amazing and really can't be beat. Here's the complete guide to Virgin Voyages restaurants!
What You're Going To Find Out
How are Virgin Voyages Restaurants Different?
Virgin Voyages approach to dining is unique Virgin Voyages doesn't have traditional main dining rooms and fixed dining times. Onboard Virgin Voyages, you'll find a variety of 20+ dining options, ranging from casual eateries to more upscale restaurants. Guests can explore these diverse culinary experiences at any time, allowing for a more flexible and relaxed cruise.

By removing fixed dining times, guests are liberated from strict schedules and can eat whenever they feel hungry, without having to adhere to specific meal times. This flexibility enables travellers to create their own itinerary without worrying about missing a meal or feeling rushed.

That gives you more time to fully immerse yourself in other onboard activities, such as entertainment shows, spa treatments, or shore excursions, without feeling constrained by rigid reservations. Sound good? Chat with one of our Cruise Gurus to start planning your holiday.
Is There A Dress Code On Virgin Voyages?
Virgin Voyages does not enforce a dress code! You have the freedom to dress in whatever style you prefer, be it formal or informal, at any time. Nonetheless, for specific on-board occasions like Scarlet Night and the Pyjama Party, it is recommended to wear particular outfits.
Are All The Restaurants Included In The Cruise Fare?
Yes! Unlike some other cruise lines, all the restaurants onboard are included. There may be a surcharge for things like Wagyu beef, but 99% of the menu is free so tuck in!
Virgin Voyages' Six Main Restaurants
Virgin Voyages offers a unique and elevated dining on its cruises, with six main restaurants to cater to every taste and preference. Each restaurant has its own distinctive concept and menu, ensuring that guests can indulge in a variety of culinary delights throughout their voyage. Let's explore the speciality restaurants you can enjoy whilst sailing with Virgin Voyages.
Panoramic Views and Mouthwatering Steaks
The Wake
If you're a steak lover, you won't want to miss The Wake, a steakhouse that offers breath-taking panoramic views of the ocean. Prepare to delight your taste buds with mouth-watering steaks and a selection of succulent seafood.
The elegant ambiance and attentive service add to the overall atmosphere, making it a must-visit speciality restaurant on the cruise. It's like a glamorous and sophisticated restaurant you'd find in New York or London, but with your menu all included in your cruise fare and no need to tip!
A Vegetarian-Focused Surprise
Razzle Dazzle
Razzle Dazzle is a restaurant where catering for vegetarians and vegans comes first.
This restaurant, with an exciting plant-based unique menu, features innovative and delicious vegetarian dishes and proves that vegetarian cuisine can be exciting and satisfying. The fun cocktails served at Razzle Dazzle add an extra touch of enjoyment to the dining experience.
Elevated Mexican Cuisine with a Tapas Twist
Pink Agave
For those craving Mexican flavours, Pink Agave offers an elevated Mexican Restaurant with a tapas-style menu.
Indulge in Mexican-inspired dishes made with high-quality ingredients and skilfully crafted to please your taste buds. The sharing plates concept allows you to try a variety of flavours and creates a convivial atmosphere at the table.
Generous Portions and Indulgent Desserts
Extra Virgin
Extra Virgin is an Italian restaurant that delights guests with generous portion sizes and a focus on indulgence.
It's the lady's trattoria serving regionally-inspired food where you can savour the flavours of expertly prepared dishes made with the finest ingredients. And don't forget to save room for the indulgent affogato dessert, a delightful combination of ice cream and hot espresso that will satisfy your sweet tooth.
Korean Barbecue at Its Finest
GunBae
For those who love the interactive experience of cooking their own food, GunBae is the perfect choice.
This restaurant specializes in Korean barbecue, allowing guests to grill their favourite meats and vegetables right at their table. The sizzling sounds and mouth-watering aromas create a unique dinner that is both delicious and entertaining. This is a must-do on all the Virgin Voyages ships!
Pushing the Boundaries of Culinary Creativity
Test Kitchen
If you're a culinary adventurer looking for something truly experimental, Test Kitchen is the place to be.
This restaurant showcases food and drink with ingredients and dishes designed to push the boundaries of creativity. With innovative flavour combinations and artistic presentations, Test Kitchen promises a something unique and unlike any other. Guests have the option to enhance their experience by opting for pairing menus with cocktails, wine, beer, or soft drinks.
With these six main restaurants, Virgin Voyages ensures that its guests have a wide range of dining options to choose from. Whether you're in the mood for a juicy steak, vegetarian delights, Mexican cuisine, indulgent desserts, Korean barbecue, or experimental dishes, there's something to satisfy every palate. Elevate your dining experience on a cruise and embark on a culinary journey like no other.
Virgin Voyages Cruise Casual Dining Restaurants
The Galley: One of the main highlights of Virgin Voyages' dining scene is The Galley, a buffet-style restaurant that offers a street food vibe with made-to-order options. This vibrant and bustling eatery is perfect for those who want a casual and relaxed atmosphere. The Galley is designed to appeal to all taste buds, with an impressive selection of mouthwatering dishes to choose from.
At The Galley, you can embark on a culinary journey in this floating food market with a wide range of cuisines and flavours. From juicy burgers at Diner and Dash to fresh and flavourful sushi at Bento Baby, there's something for everyone. Craving some Mexican fare? Let's Taco Bout It serves up delicious and light Mexican bites that will leave you wanting more. If you're in the mood for some hearty and toasted sandwiches, Hot Press is the place to be. And for those who can't resist a bowl of noodles, Noodle Around offers a variety of noodle dishes that are sure to satisfy your cravings. Make your way around the world with this stylish food court that's anything but boring. Chat with a Cruise Guru to find out more.
A Sip of Happiness: Grounds Club
For coffee aficionados, Virgin Voyages has you covered with a coffee shop that serves barista-style coffee and even spiked coffees for those looking to add a little kick to their beverage. Whether you prefer a creamy cappuccino or an indulgent latte, you won't be disappointed. And don't forget to pair your coffee with something sweet from the dessert selection available.
A Slice of Heaven: The Pizza Place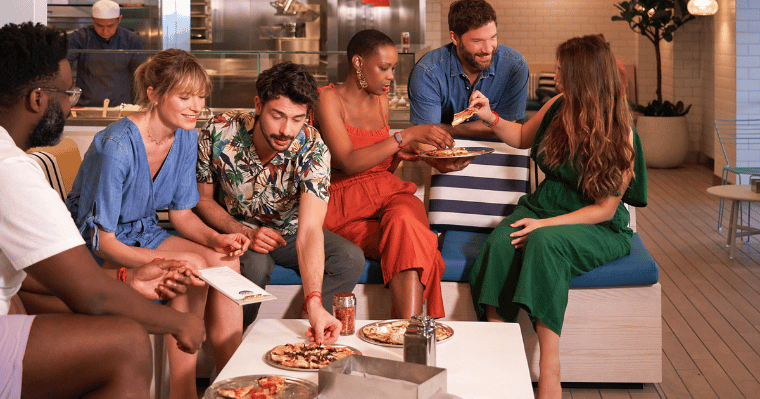 Imagine sinking your teeth into a piping hot slice of pizza, perfectly seasoned and topped with your favourite ingredients. At Virgin Voyages, you don't have to imagine – it's a reality. The dedicated pizza place on board serves up mouth-watering pies that will satisfy even the most discerning pizza aficionados.
Choose from a variety of classic and specialty pizzas, each made with the freshest ingredients and cooked to perfection. Whether you prefer a traditional Margherita or something more adventurous like a BBQ chicken pizza, you'll find the perfect slice to suit your taste buds. Download the sample menu.
We spend so much time in the Pizza Place when we're onboard!
Unforgettable Experiences
When it comes to dining on a cruise ship, Virgin Voyages knows how to please every palate. The variety of dining options available ensures that no matter what your preferences or dietary restrictions may be, you will have a delightful culinary experience during your voyage. From quick and convenient grab-and-go options to elegant fine dining establishments, there is something for everyone on board.
One of the standout dining venues on Virgin Voyages is Razzle Dazzle, an incredible outdoor restaurant where every table offers breathtaking ocean views. This is the perfect place to enjoy a leisurely breakfast or a romantic dinner under the stars. The menu features a delectable selection of dishes inspired by the flavours of the Mediterranean, ensuring a truly memorable culinary journey.
Is Virgin Voyages Right For You?
Virgin Voyages truly understands the importance of a memorable cruise. With its wide range of dining options, from casual street food to elevated culinary delights, you're sure to find something that satisfies your taste buds. And if you just want to chill out and relax, get some Ship Eats (Virgin speak for room service) and pig out in your cabin watching the sea. It's all included in the price of your Virgin Voyage.
So, whether you're a foodie looking to explore new flavours or simply seeking a delicious meal, Virgin Voyages has got you covered. Bon appétit!
How Do I Book A Virgin Voyages Cruise?
You've come to the right place. Chat with one of our Cruise Gurus about your Virgin Voyages cruise today to start your next adventure.
Which is the best way for you to contact us?
Call Me Please
Get in touch
Call Me Please