Set Sail With A Virgin Voyages Trusted Travel Partner
(that's us in case you were wondering)
Virgin Voyages is a swanky yet laid-back adventure for grown-ups only. You'll be able to indulge in the elegance of a chic boutique hotel style while sailing the high seas with that unmistakable Virgin flair and top-notch service. Bid farewell to those boring buffet joints, stuffy dress codes, and strict meal schedules, and say hello to being treated like a Rock Star and loads of goodies included in your cruise. Virgin has over 20 mouth-watering restaurants on board, free Wi-Fi, fitness classes to keep you in tip-top shape, and even your daily dose of caffeine and tea. So sit back, relax, and let Virgin pamper you as you sail away into paradise.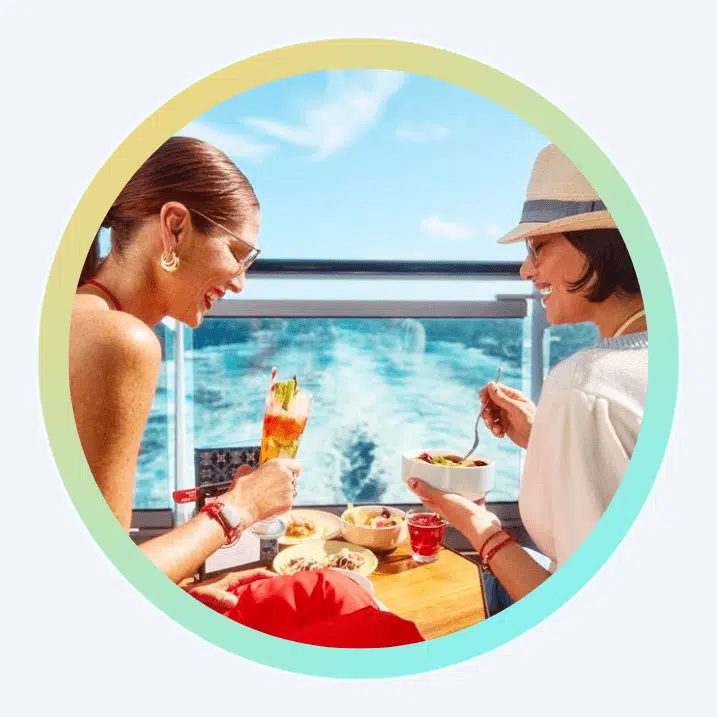 Set Sail With Laid-Back Adults-Only Voyages
No Kids Cruises
Virgin Voyages are adult-only by design. That means space on other cruise ships that's taken up by things like kids clubs can be used for more fun such as restaurants and bars. Watch amazing and innovative shows in the Red Room, jam to the festival-like lineup of acts or play games over some wings at the Social Club. All without any kids around to spoil the fun.
What's Included?
When you sail with Virgin Voyages, there's so much included. From the moment you step foot on the ship, you'll be treated like a rockstar. Enjoy Michelin-starred chef-curated menus at our top-notch eateries. Whether you prefer a relaxing day by the pool or want to explore amazing destinations, our ships have it all.
Get all of this included in the price of your cruise:
Michelin star chef-curated menus
Sip on soda, juices still and sparkling water or indulge in a drip coffee – it's all included
No tipping – Virgin pays their crew a decent wage so there's no need to dip into your pocket
Free Wi-Fi – Snap that pic with your ice cream before it tragically turns into a gooey mess
Work up a sweat with group exercise classes and a state-of-the-art gym
Extraordinary entertainment
Personal Cabin Host
And so much more!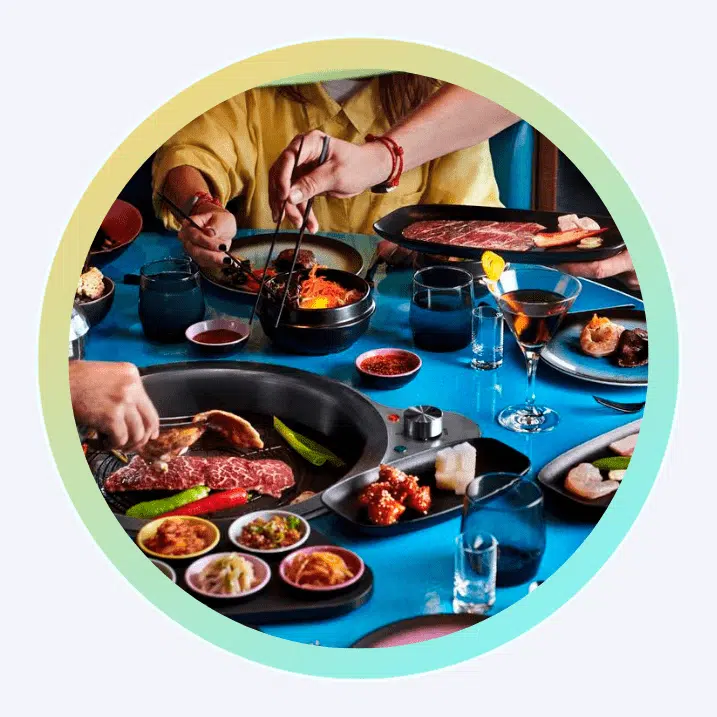 Michelin-Starred Chef Menus
So yummy
Food is right at the heart of your cruise. A collective of Michelin-Starred chefs have created incredible menus. World-class chefs like Brad Farmerie (of PUBLIC in NYC) and Sohui Kim (of Gage & Tollner and Insa in NYC) are a few of the geniuses behind the menus. Don't miss out on one of our favourites Gunbae, the Korean BBQ.
Check out our Virgin Voyages Restaurant Guide
What's It Like Onboard?
You'll find a world of entertainment and relaxation. Sip on cocktails at the deck bar, sing your heart out at karaoke night, or enjoy a Broadway-style show developed by renowned choreographers. Stay active with HIIT classes or unwind in a hammock with a refreshing sparkling water or a drip coffee.
Virgin Voyages ships are designed to provide a truly immersive experience. Explore the different decks, relax in a hammock on the terrace, or enjoy a late-night karaoke session.
Whether it's your first cruise or one hundredth, we think you'll love sailing with Virgin.
Think it's just for Millennials? Check out our blog and podcast all about life onboard.
Putting You First
ATOL Protected Cruises
As part of Travel Counsellors, we offer peace of mind and are ATOL protected. Established back in 1994, we're now one of the UK's largest independent travel companies. Our mission is to bring you exceptional customer service & unbeatable value for money.
Plus, we're always here to help – our 24 hour duty office means you can always get in touch with us no matter what time of day or night it is. It's good to know you're in safe hands when you cruise with us.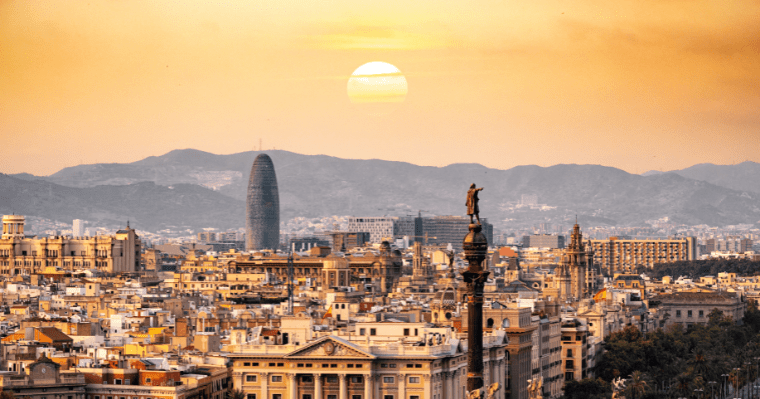 Explore Amazing Destinations
Discover the world. Virgin Voyages sails to stunning beaches and vibrant cities. The itineraries take you to the most sought-after destinations. Immerse yourself in the local culture, dine at the best eateries, and create memories that will last a lifetime. Embark on a journey of a lifetime with Virgin Voyages and discover the world like never before. Itineraries are carefully crafted to take you to the most breath-taking and sought-after destinations across the globe.
Picture yourself lounging on stunning beaches, feeling the soft sand between your toes and the gentle ocean breeze caressing your skin. Whether it's the pristine shores of the Caribbean or the exotic beauty of the Mediterranean, our voyages will transport you to paradise.
But it's not just about the beaches. We believe in immersing ourselves in the local culture and truly experiencing the destinations we visit. From vibrant cities to charming coastal towns, our itineraries are designed to give you a taste of the authentic local flavour. New destinations such as Australia and New Zealand make for an unforgettable cruise.
NEW UK Sailings For 2024
For those who don't like flying or just fancy a cheeky weekend away, you can now sail on selected dates in 2024 from Portsmouth.
Get ready to embark on a thrilling adventure with our fabulous itineraries that will take you on short breaks to uber-cool Amsterdam and the stunning Zeebrugge for picturesque Bruges. But hold onto your hats because the real showstopper is the longer cruise from exciting Portsmouth all the way to vibrant Barcelona, making unforgettable stops at the fabulous La Coruna, delightful Lisbon, buzzing Casablanca, marvellous Malaga and the party central of Ibiza. Get your passport ready for an epic journey like no other!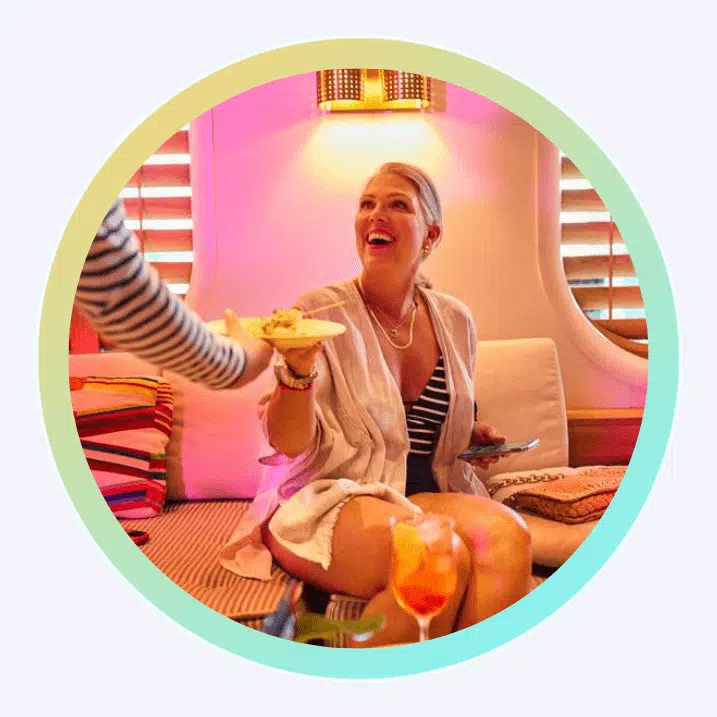 Discover Exclusive Deals
Virgin Voyages offers
Don't miss out on our exclusive cruise deals. Book now and receive up to $600 in free perks. Whether it's a cosy cabin or a luxurious suite, we have the perfect option for you.
Experience Virgin Voyages for yourself.
Getting A Good Nights Sleep
The masterfully crafted cabin technology and impeccably refined aesthetics offer a sanctuary that surpasses mere slumber. Step into a haven where you can escape, unwind, and prepare to conquer the seven seas.
Virgin's cabins and suites offer something for everyone. For night owls who just want somewhere to crash, the insider cabins offer the best value. Want a little bit of sunshine? Take a sea view cabin and enjoy the views without going outside.
Most of the cabins are the wonderful Sea Terraces. Kick back, relax and watch the world sail by in your hand-woven terrace hammock.
Got late-night munchies? Our delivery service is built to cater to your cravings, no matter the hour. It's a 24/7 unstoppable snacking extravaganza!
If you enjoy being treated like a VIP with unlimited privileges all over the ship, having Rockstar Agents at your beck and call, posh bathrooms made of expensive marble with luxurious features, and spaces created by the one and only acclaimed designer, Tom Dixon, then the RockStar Quarters are the place to be.
Introducing The Virgin Voyages Ships
Experience the OG – Scarlet Lady, the star of the Virgin Voyages fleet. Discover the elegance of Valiant Lady and the charm of Resilient Lady. Each of the gorgeous lady ships offer a unique and unforgettable experience.
Scarlet Lady
The OG Lady Ship
Introducing the fabulous Scarlet Lady, the premier vessel of the fresh and fabulous Virgin Voyages. Drawing inspiration from a vintage Virgin Atlantic aircraft, her name alone exudes elegance.
Get ready to indulge in a plethora of cutting-edge luxuries, including the celestial practice of yoga on the sun-soaked deck and the opportunity to embark on a culinary voyage like no other with avant-garde dining. Get ready to have your mind blown by this extraordinary experience at sea!
Valiant Lady
where party meets classy
Michelin-star chef curated menus, lazy days around on the pool deck and mind-blowing entertainment. What more could you want?
Resilient Lady
The newbie
The latest ship to the Virgin fleet. And she's a beauty. In Summer 2024, she'll be sailing from Portsmouth for the first time.
Get ready to revel in the luxurious abodes of our knowledgeable sailors and experience the utmost splendour in Rockstar suites. Indulge in delectable culinary creations, made-to-order just for you, at our all-inclusive, top-notch eateries and specialized restaurants. And hold your breath! The festival-style entertainment program is sure to have you jumping with excitement.
5-Star Cruise Reviews
The reviews are in and so are the awards.
Best Overall Cruise Line Cruise Critic US – 2023 Cruisers' Choice Awards
#1 Best Large Cruise Ship Condé Nast Traveler Readers' Choice Awards 2023
Best Value for Money Cruise Critic US – 2023 Cruisers' Choice Awards
#1 Best Mega-Ship – Ocean Cruise Line Travel + Leisure – World's Best Awards 2023
One of the things we hear the most is "the crew was amazing!". They really do make such a difference all around the ship.
Read Our Virgin Voyages Blogs & Guides
Our Cruise Gurus have put together some cool guides to help you have the best voyage ever.
If you're planning a cruise with Virgin Voyages, you might be wondering if the cruise line offers a drink package. In this bonus cruise podcast, we'll give you all the details on Virgin Voyages' drink packages, including what's included and how much it costs. So listen to find out everything you need to know about…
How Does A Bar Tab Work?
Virgin Voyages is all about making your experience hassle-free. With the innovative bar tab system, you can enjoy essential drinks throughout your cruise. Gone are overpriced all-inclusive drinks packages that force everyone in the cabin to purchase the same thing. Virgin has swapped package for a bar tab. Drink what you like, when you like. Plus your cruise already includes soda and drip-filtered coffee so there's no need to splash out for those.
Where Can I Find Virgin Voyages Cruise Deals?
Trusted Travel Partners
Look no further for the best Virgin Voyages cruise deals. We offer exclusive discounts and perks for your 2023 and 2024 cruise holidays. With our 5-star Trustpilot reviews, you can trust that your experience will be nothing short of amazing. Don't miss out on the opportunity to sail with Virgin Voyages, the pioneers of luxury cruising.
Book now and get up to $600 in free extras. Let's talk and plan your dream cruise today!
Which is the best way for you to contact us?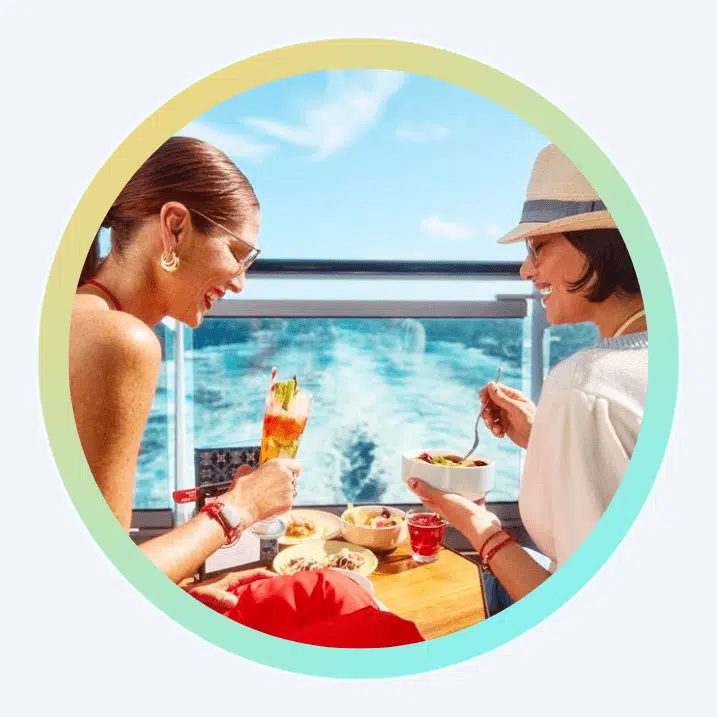 Get in touch
Call Me Please