Best Things To Do In Rome On A Cruise
The city of Rome is known as the "Eternal City" for its long and storied history. It's no surprise that this bustling, vibrant city is also one of the most popular stops on Mediterranean cruises.
But it's not just cruise ships that visit Rome for the day. There's an endless array of cruises departing or finishing in Rome. And what better way to explore this fascinating city than with a pre- or post-cruise stay? Discovering the Eternal City's historical landmarks, indulging in its delicious cuisine, and taking in its unique culture are all part of the journey that await you.
From ancient ruins to tasty Italian cuisine, there's something for everyone in Rome. But with so much to see and do, it can be hard to know where to start when planning your trip. Fear not! Here are some of the must-see attractions in Rome that you won't want to miss while visiting this wonderful city on a cruise.
Visit the Colosseum in Rome
No cruise to Rome is complete without visiting the Colosseum. It's perhaps one of the most iconic symbols of Roman antiquity and it's easy to see why. This huge amphitheatre was built around 70 AD and for centuries hosted gladiatorial contests, public spectacles, and dramas. Today, the Colosseum serves as a reminder of a distant past and has become an inextricable part of the city's culture. This incredible destination has been named one of the New 7 Wonders of the World. A visit here will give you insight into ancient Roman life and culture like nothing else can. Speak with one of our cruise experts to find out more about visiting Rome on your next holiday.
Explore Vatican City
Vatican City is a sovereign state within Rome and home to many important religious sites. A visit here will take you through some amazing architecture such as St Peter's Basilica, Sistine Chapel, Piazza San Pietro or Castel Sant'Angelo. You'll also find plenty of fascinating artworks by some of Italy's greatest artists including Michelangelo's world-famous ceiling frescoes in Sistine Chapel as well as his sculpture La Pietà inside St Peter's Basilica. The sheer number of masterpieces contained within these walls make Vatican City an essential stop on any tour through Rome.
Go Shopping in Via Condotti
If you're in Rome before or after your cruise, take in a bit of shopping. Via Condotti is Rome's answer to Fifth Avenue in New York or Rodeo Drive in Los Angeles. If you're looking for luxury shopping then this is the place to be! From Prada and Gucci boutiques to high-end jewellery stores, there's something here for everyone who loves a bit of retail therapy! Even if you don't have deep pockets, it's still worth taking a stroll along Via Condotti just for people watching. You never know who you might spot!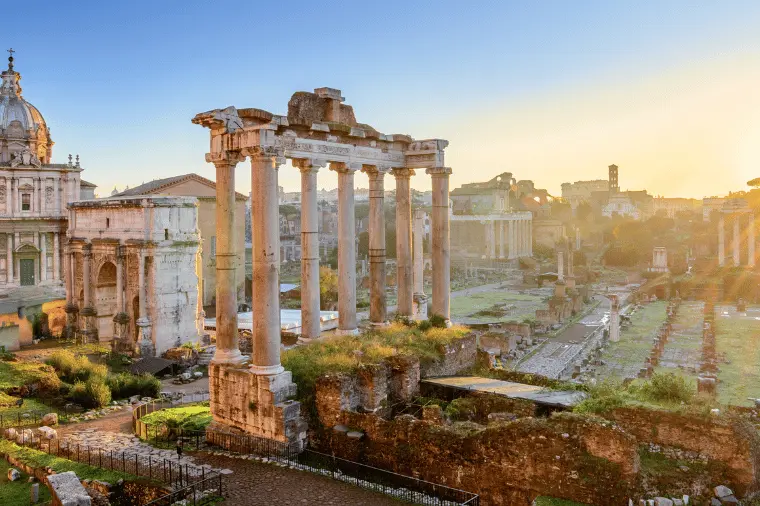 Eat Pizza at a Pizzeria
No trip to Italy would be complete without indulging in some of the country's delicious cuisine! Rome is no exception and one of its most famous dishes is, of course, pizza. Whether you opt for classic Margherita or something more adventurous like Capricciosa, you'll find plenty of pizzerias throughout the city serving up delicious slices. After all the food on your cruise, you might not be able to fit in a pizza. But I'd always recommend taking a break from sightseeing and enjoy some of Rome's best pizza!
I can thoroughly recommend Salvatore Di Matteo Le Gourmet
Take in Some Culture at Capitoline Hill, Rome
Capitoline Hill is one of the seven hills that make up ancient Rome and was once home to the Roman Senate. Nowadays, the hill hosts a number of important art galleries and museums, as well as beautiful panoramic views across the city. The Capitoline Museums house some of Rome's best collections of ancient sculptures and artifacts. The Piazza del Campidoglio is adorned with works by Michelangelo and other famous artists. Whether you're an art aficionado or just want to experience some of Rome's culture, this is one stop you won't want to miss. Not sure where to start planning your cruise? Find out more about how a FREE Cruise Guru can help you.
Marvel at the Pantheon
The Pantheon is one of the oldest and most iconic buildings in Rome. Built in 120 AD as a temple to all gods and later converted into a church by the Roman emperor Phocas in 608 AD. Despite its age, the Pantheon still stands largely intact. Many regard this monument as one of the best preserved ancient monuments in Rome. With its timeless beauty, this ancient structure serves as a reminder of the city's complex and powerful past.
The Trevi Fountain & Spanish Steps
Two more iconic places to visit in Rome when you're in town on your cruise are the Trevi Fountain and Spanish Steps.
Built in 1762, the fountain is an impressive example of Baroque architecture that stands at a staggering 25m high. The centrepiece of the fountain is Neptune, god of the sea , who stands atop a chariot pulled by two horses. The fountain is also famous for the legend that by throwing a coin into it, you will ensure your return to Rome one day. Whether or not this is true, it's worth making a wish and flinging a coin in!
The Spanish Steps are one of Rome's most famous landmarks. They have been a popular destination since their construction in the early 18th century. Located at the foot of the Pincio Hill, the steps were designed by architect Francesco de Sanctis. Built by Italian sculptor Alessandro Specchi. The 135 steps are made out of travertine. They lead up to the church of Trinita dei Monti, which showcases a beautiful fresco by French artist Jean-Honoré Fragonard. The steps are also home to some stunning fountains and provide an excellent view over the city.
Plan your cruise to Rome
Rome is an amazing city filled with fascinating sightseeing opportunities—and that's just scratching the surface! From uncovering historic ruins to indulging in luxury shopping, there are countless possibilities awaiting you on a cruise holiday in Rome. So make sure you leave plenty of time during your stay so you can get out there and see all that this incredible city has to offer!
Our cruise gurus are ready to help you book your cruise to Rome.