Celebrity Cruise Podcast
What You Need To Know
Never sailed with Celebrity Cruises before? Thinking about a cruise with Celebrity? You're in the right place!
Welcome to the Celebrity Cruises Podcast, where we bring you first-hand insights and exciting stories from the world of Celebrity. In today's episode, Martin will be chatting with Michael, one of the top account managers at Celebrity Cruises. Together, they will dive into what sets Celebrity apart and why it's an exceptional choice for your next cruise adventure.
Celebrity is renowned for providing award-winning luxury cruise experiences around the globe. Whether you have a penchant for exploring exotic Asian destinations, immersing yourself in the rich history and culture of Europe, or basking in the sun-kissed beauty of the Caribbean, they have a perfect itinerary for you. From breath-taking landscapes to vibrant cities, every port of call offers unique experiences that will create lifelong memories.
We'll be chatting about some of their amazing ships such as the Celebrity Equinox, Celebrity Reflections, Celebrity Beyond, Celebrity Apex, Celebrity Summit & Celebrity Eclipse.
One of the hallmarks is their commitment to providing exceptional onboard experiences. Imagine indulging in a culinary journey like no other. With Le Petit Chef, an innovative fusion of entertainment and cuisine, your dining experience will be elevated to new heights. They take pride in offering a diverse range of world-class dining options that cater to every palate, ensuring that each meal is a culinary masterpiece.
When it comes to accommodations, they leave no stone unturned. Whether you choose a cosy and comfortable cabin or opt for a luxurious suite, every detail has been carefully designed to provide the utmost comfort and relaxation. The staterooms and suites offer a tranquil oasis where you can unwind and recharge after a day filled with exciting activities and exploration.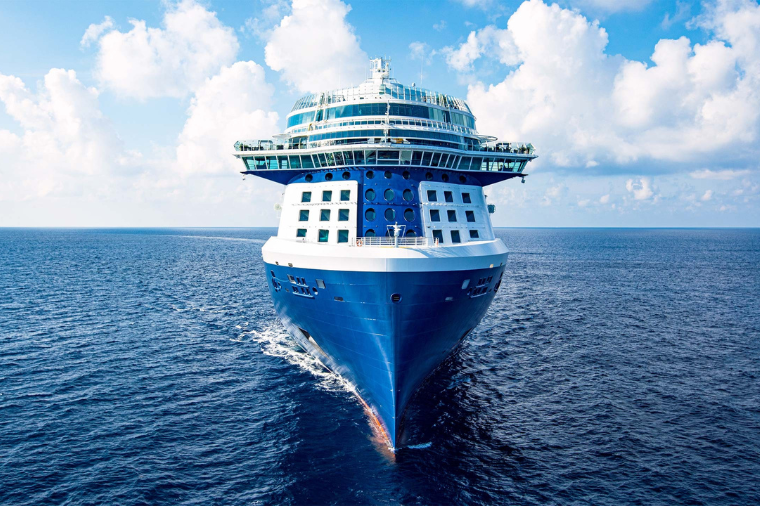 In addition to unforgettable holidays, the cruise line also caters to corporate events and incentive travel programs. Imagine hosting a business conference or a team-building retreat while sailing through breath-taking destinations. With state-of-the-art conference facilities and personalized services, Celebrity ensures that your corporate events are seamlessly executed, leaving a lasting impression on your guests.
They take pride in their best price and service guarantee, assuring guests that they will receive exceptional value for their investment. From the moment you step onboard until the time you disembark, the dedicated and attentive crew members go above and beyond to ensure that your every need is met. The world-class service and attention to detail have earned Celebrity Cruises a reputation as one of the most trusted and beloved cruise lines in the world.
So, whether you are a seasoned cruiser or someone looking to embark on your very first cruise, they offer an unparalleled experience that caters to all your desires and preferences. With their commitment to luxury, entertainment, exquisite cuisine, and exceptional service, Celebrity continues to redefine the cruising industry.
Tune in to our podcast episode as Martin and Michael delve into the captivating world of Cruises. Get ready to be inspired, intrigued, and tempted to set sail on an extraordinary journey that will leave you with cherished memories for a lifetime. Watch our videos on our YouTube Channel too.
So whether you're a seasoned cruiser or someone who's never been on a cruise before, this episode of the Cruise Help & Advice podcast is sure to provide you with valuable insights and inspiration for your next cruise adventure.
What you'll learn in this podcast
Is Celebrity a high end cruise?
What sets them apart from the rest?
Where can you dine onboard?
Where do they sail to?
Which month is the cheapest to cruise?
What drinks packages are available?
What is there for the kids to do?
What is the average age of guests?
Which cabin should I pick?
Is cruising for you?
And much, much more!
Got a question? Speak with your own Cruise Guru about anything in this podcast
Listen or download in your favourite podcast player
Never sailed with Celebrity before? Thinking about a cruise with Celebrity? You're in the right place!
Martin's chatting with Michael from Celebrity Cruises. He'll be telling you what it's like sailing with them and how they're different compared to other cruises you may have taken before.
Speak With A Cruise Guru
Are you struggling to find, book and plan your next Cruise? There's so much to think about!
Relax – get in touch with your personal Cruise Guru. Their job is to take away all of the hassle and worries you normally get with booking a cruise. Plus, get Celebrity Cruise Discounts when you book with us
Plus, it won't cost you a penny more than booking direct with the cruise line – it's a no-brainer!
Request a Call Back