Disney Dream Cruise Ship Tour, Review & Deals
Embark on a journey of enchantment aboard the Disney Dream cruise ship. With its stunning three-story atrium, themed dining rooms, and a plethora of entertainment options, this ship offers an unforgettable experience for guests of all ages. Join us as we delve into the enchanting features and amenities that make the Disney Dream a truly magical destination.
Listen Online
What You're Going To Learn
Atrium Splendour: A Grand Entrance To Your Cruise
The atrium is truly the heart of the ship, a central hub where guests gather and embark on their extraordinary journey. It sets the tone for the entire Disney Dream experience, inviting you to leave the ordinary world behind and enter a realm of wonder and excitement.
As you enter the atrium, your eyes are immediately drawn to the sparkling chandelier that hangs from the ceiling, casting a warm and inviting glow. Its intricate design is a work of art, reflecting the elegance and charm of the ship. The chandelier is a symbol of the attention to detail and craftsmanship that can be found throughout the Disney Dream.
The art deco atrium is flanked by stunning sweeping staircases, inviting you to make your grand entrance into the world of Disney magic. Each step you take brings you closer to the adventures that await, creating a sense of anticipation and excitement. The staircases themselves are a sight to behold, with their ornate railings and exquisite detailing.
As you explore the atrium, you'll discover that it is not just a beautiful space, but also a hub of activity and entertainment. Throughout your cruise, you'll find character meet and greets, live performances, and interactive experiences taking place here. It's a place where memories are made and cherished, where dreams come true.
Disney Dream Dining Delights: Main Restaurants
When it comes to dining on a cruise, there's no shortage of options. But on a Disney cruise, the dining experience is taken to a whole new level. Get ready to indulge in a unique culinary adventure as you rotate through the three main dining rooms each night.
The Royal Palace
The Royal Palace is one of the exquisite options you'll have the pleasure of dining in. Step into a world themed around Disney royalty, and feel like a prince or princess yourself. The elegant décor, regal ambiance, and impeccable service make every meal here a truly magical experience.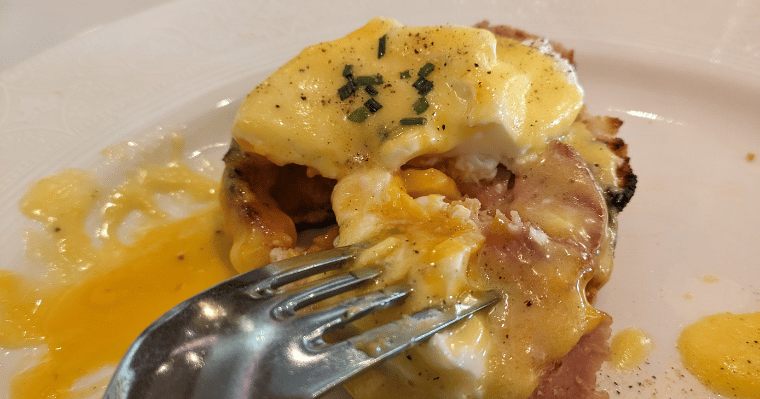 Animator's Palate
Animator's Palate is my favourite place to dine onboard the Disney Dream. The entire restaurant is filled with animated Disney characters, with sketched characters adorning the walls. The dining area features a diverse selection of tables, and the ceiling is adorned with a beautifully lit design resembling an artist's palette. Can you guess the name of this delightful establishment now? And that's not all – there's even a pillar designed to resemble a paintbrush! As you enjoy your meal, you'll be entertained by the amazing show called Undersea Magic. It's a lot like the beloved Turtle Talk With Crush experience in EPCOT. Crush himself will visit your table (there are screens conveniently located at the ends of each table) and engage in conversation with you. And when Crush isn't on the screen, a school of fish will keep you entertained with fun guessing games!
The bread offering included delectable Garlic and Herb Focaccia Bread, perfectly complemented with butter and a delightful roasted garlic dip. Without a doubt, this was the absolute highlight among the three exceptional dining venues! While the rolls were satisfactory, it was the roasted garlic dip that truly stole the show. It surpassed all expectations with its exquisite creaminess and bold garlic flavour, reminiscent of a high-end rendition of Papa John's renowned garlic sauce. We were so enthralled by its enticing taste that we found ourselves meticulously scraping every last drop from the bowl. Speak with one of our cruise team to start your Disney Cruise Line holiday.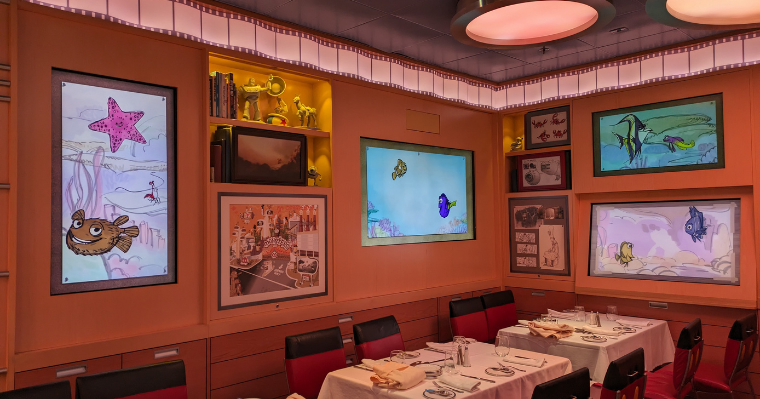 Enchanted Garden
Our last restaurant was the Enchanted Garden. The restaurant has been beautifully crafted to resemble an Arboretum in Versailles, with elegant white trellises and stunning fountains.
The shift in lighting between day and night adds a fantastic element to the atmosphere! On one evening, I indulged in a generous portion of prime rib that was prepared to perfection. While it didn't surpass our expectations for the most remarkable steak we've ever had, it was undeniably delicious. What made the meal truly special were the delightful accompanying vegetables. The double baked potato served alongside was a pleasant departure from the typical mashed potatoes usually paired with this type of meat, and the addition of horseradish enhanced the overall flavour. We believe this dish is sure to please a large gathering of people!
Each dining room offers a unique menu filled with mouth-watering options. From fresh seafood to delectable desserts, there's something to please every palate. And the best part? You don't have to choose just one dish. Feel free to indulge in multiple courses and explore new flavours.
The rotation between dining rooms adds an element of surprise and excitement to each evening. You never know where you'll be dining next, but you can be sure that it will be a remarkable experience. Each room has its own theme and atmosphere, ensuring that every night feels like a brand new adventure.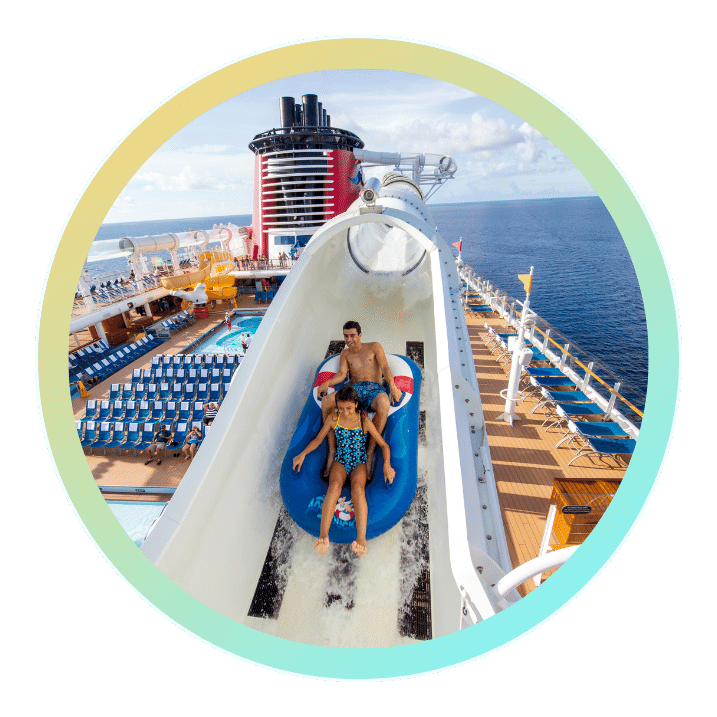 Set Sail With Disney Cruise Line
Get in touch
Broadway at Sea: Captivating Performances
Are you ready to be transported to a world of magic, music, and mesmerising performances? Look no further than the Walt Disney theatre, a two-story venue that showcases Broadway-style live shows like no other. From captivating musicals to breath-taking live entertainment, this theatre is sure to leave you spellbound.
Step into the enchanting world of the Walt Disney theatre and prepare to be amazed by the world-class performances that grace its stage. With its state-of-the-art sound and lighting systems, every show here is a visual and auditory feast. From the moment you take your seat, you'll be transported to another world, where anything is possible.
One of the highlights of the Walt Disney theatre is its incredible line-up of musicals. Imagine watching beloved Disney classics come to life with stunning sets, intricate costumes, and show-stopping numbers. Whether it's The Golden Mickeys or the beloved characters from the classic Disney film "Beauty and the Beast," these Broadway-style productions will leave you singing along and tapping your feet.
What sets this theatre apart is the incredible talent that graces its stage. The performers are not only skilled actors and singers but also exceptional dancers and acrobats. Their energy and passion are infectious, and their dedication to their craft is evident in every move they make.
It's not only the main shows that will leave you in awe, but also the smaller performances that take place throughout the ship. Where else can you watch some of your favourite Disney films on the funnel whilst the AquaDuck water coaster zooms above your head?
Meet Mickey & Friends
Disney Cruise Line excels in providing easy access to all your favourite characters for an unforgettable experience.
Multiple opportunities are offered throughout the day on the Disney Dream for guests to catch a glimpse of beloved characters like Mickey, Pluto, Goofy, and Donald. By staying updated with the Navigator app you can ensure you never miss out.
The wait times and crowds are minimal, allowing you to fully enjoy your interaction with the characters without any hassle.
Moreover, the Oceaneer Club organises exciting activities for kids that involve personalized interaction with their favourite characters. Where else would you get the chance to dance with none other than Mickey himself?
Additionally, characters are known to wander around the ship at different times, especially the enchanting princesses. With the ship's close quarters, encountering them is almost guaranteed.
Tempted by your own Disney Cruise? Speak with our Disney cruise team.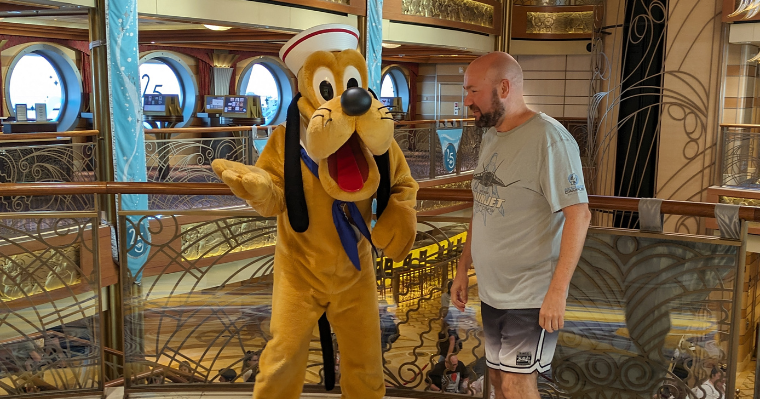 Disney Dream Cruise Ship: Bars, Lounges, and Relaxation
Whether you prefer a cosy lounge or a vibrant nightclub, the Disney Dream has it all. From the District Lounge to the Pink champagne bar, there's a perfect spot to unwind and enjoy a drink. For a unique experience, visit the Skyline bar with its virtual windows showcasing different skylines and city backdrops. And if relaxation is what you seek, the ship's spa and salon, as well as the gym, offer the perfect retreat.
From the moment you step foot into the Bon Voyage Bar, you'll be transported to a world of tasteful delights. Sip on a cocktail as you embark on your culinary journey, and let the excitement build.
Onboard the Disney Dream, you'll find a variety of bars and lounges that cater to different tastes and moods. Whether you prefer a laid-back atmosphere or a lively party scene, there's a venue for everyone.
Some our my favourites are:
Pink Champagne Bar
For those who enjoy the finer things in life, the adults-only Pink Champagne Bar is the place to be. This luxurious lounge specialises in champagne and sparkling wines, allowing guests to indulge in a glass of bubbly while enjoying the elegant ambiance. Whether you're celebrating a special occasion or simply want to treat yourself, this bar is the epitome of luxury.
Skyline Bar
Step into the Skyline Bar and be transported to different cities around the world. With its virtual windows showcasing stunning skylines and cityscapes, this bar offers a unique and immersive experience. Sip on a carefully crafted cocktail as you admire the views of New York, Paris, and Tokyo. The Skyline Bar is a true delight for the senses.
Senses Spa and Salon
If relaxation is what you seek, look no further than the ship's Sense Spa and salon. Indulge in a soothing massage, rejuvenating facial, or pampering body treatment. Let the skilled therapists melt away your stress and tension, leaving you feeling refreshed and revitalised. The spa and salon also offer a range of beauty services, including hair styling, manicures, and pedicures.
Unwinding and indulging is made easy on the Disney Dream. Whether you're in the mood for a quiet drink in a cosy lounge or dancing the night away in a vibrant nightclub, there's a venue that caters to your preferences. And when relaxation beckons, the ship's spa, salon, and gym provide the perfect retreat for rejuvenation. So sit back, sip on your favourite cocktail, and let the magic of the Disney Dream whisk you away to a world of indulgence and relaxation.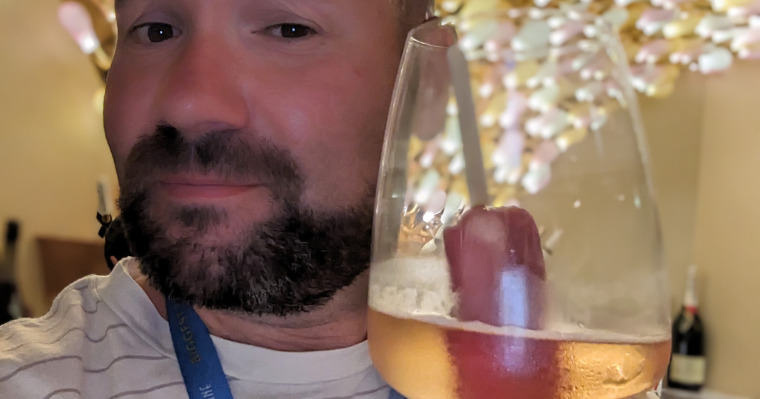 Fun in the Sun: Cruise Ship Poolside Bliss
When it comes to fun in the sun, the Disney Dream knows how to deliver! This magnificent cruise ship boasts a main family pool area that is sure to delight guests of all ages. Featuring two pools, a thrilling water slide, and plenty of space to splash around, it's the perfect spot for endless fun and excitement.
For families with children, the family pool area is a dream come true. Kids can splash around in the shallow pool, slide down the water slide, or engage in water games and activities organized by the friendly Disney crew. Parents can relax on poolside loungers while keeping a watchful eye on their little ones, or join in on the fun and make unforgettable memories together.
But the fun doesn't stop there! For adults seeking tranquillity and relaxation, the Disney Dream offers an exclusive outdoor area designed just for them. Picture yourself lounging in a comfortable chair, sipping on a refreshing cocktail, and soaking up the warm sun. This serene space features a pool perfect for taking a leisurely dip, and a swim-up bar where you can indulge in your favourite drinks without ever leaving the water.
If you're in need of a refreshing pick-me-up, be sure to visit the Cove Café. Located near the adult-exclusive pool area, this delightful café offers a wide selection of specialty coffee drinks, teas, and other refreshing beverages. Whether you're in the mood for a latte, a smoothie, or a classic iced tea, the Cove Café has you covered. And to satisfy your hunger, they also serve complimentary snacks that are perfect for a quick bite in between poolside relaxation sessions.
So, whether you're looking for fun and excitement or a peaceful retreat, the poolside areas on the Disney Dream have something for everyone. From the thrilling water slide and family pool area to the exclusive adult lounges and swim-up bar, there's no shortage of opportunities to enjoy the sun and make lasting memories on this incredible cruise ship.
Luxury and Indulgence: Upgrade Your Disney Cruise
Indulge in an unforgettable dining experience onboard our luxurious cruise ship, where you can savour the culinary delights at two specialty restaurants – Palo and Remy. These extraordinary dining venues offer an exceptional range of exquisite cuisine, guaranteeing a truly memorable gastronomic adventure.
Step into the world of Palo, a gourmet restaurant that excels in creating magical moments for every discerning palate. With its elegant decor and stunning ocean views, Palo sets the stage for an intimate and sophisticated dining experience. From the moment you enter, you will be enveloped in a warm and inviting ambiance, where attention to detail is highly regarded.
The Disney Dream's premier restaurant Remy is an artisanal masterpiece. Inspired by the renowned chef Remy from the Disney movie "Ratatouille," this extraordinary fine dining establishment showcases the art of French gastronomy at its finest. Immerse yourself in a symphony of flavours as the talented chefs create culinary masterpieces that will leave you craving for more.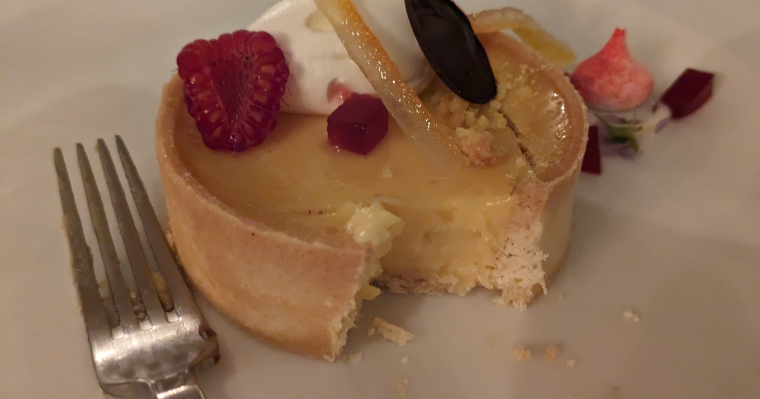 Disney Dream Staterooms Review
Disney Cruise Line ships, including the Disney Dream, offer a variety of stateroom options to cater to different preferences. These options include Concierge, Oceanview with Verandah, Oceanview, and Inside staterooms. Each category comes with its own unique set of features and amenities, allowing you to choose the one that suits your needs and desires perfectly. Not only that, but each stateroom category also comes with its own price point, ensuring that there is something available for every budget. So, let's explore these fantastic options and find the perfect stateroom for your unforgettable cruise experience!
Experience unparalleled luxury and extravagance in the magnificent Concierge Suites aboard the remarkable Disney Dream. These opulent accommodations can comfortably accommodate parties of 5 to 7 guests, providing you with abundant space to unwind and rejuvenate. As an added bonus, each suite boasts a delightful veranda, allowing you to relish in some much-needed serenity. Moreover, indulge in the exceptional privilege of being attended to by our devoted Concierge Service, ensuring that your every desire is fulfilled during your stay in these remarkable suites.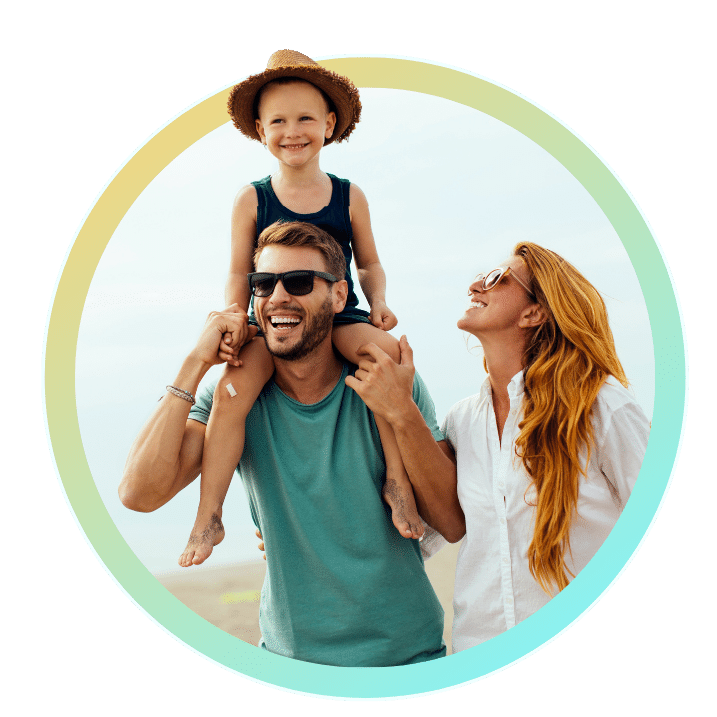 Start Your Disney Dream Cruise
Get in touch
Discover the incredible variety of Oceanview Staterooms, each offering a unique experience. Choose the category that includes verandahs or balconies, allowing you to soak up the breathtaking ocean views. These accommodations provide ample space for your utmost comfort, even though they are technically single rooms unlike the Concierge Suites. Depending on your preferences, Oceanview Verandah rooms can comfortably accommodate 3 to 5 guests, ensuring a memorable stay for everyone.
The Oceanview Staterooms offer a similar experience to the Oceanview Staterooms with Verandahs, although they may be more compact (and of course, don't come with verandahs!). Instead of a balcony, guests can admire the breath-taking ocean views through a porthole.
If you don't prioritise having a balcony or a view of the ocean, then an Inside Stateroom could be the perfect choice for you. These inside cabins are situated within the ship's interior, which means they don't have any exterior walls or windows – and consequently, they lack natural sunlight. However, fear not, as there are virtual portholes called "Magical Portholes" that provide live views of the magnificent sea. Moreover, you never know what surprises await you, such as spotting your beloved Disney character or even a swashbuckling pirate ship passing by.
Disney Dream Itineraries & Destinations
Get ready for an extraordinary journey aboard the magnificent Disney Dream, set to embark in early 2024. This incredible cruise will whisk you away on unforgettable three- and four-night trips to the Bahamas, as well as five-night voyages to the enchanting western Caribbean. Prepare to be captivated by the wonders of Disney Cruise Line, as you indulge in sensational Broadway-style shows, exceptional dining experiences, heart-warming character encounters, and exhilarating fireworks displays at sea.

But that's not all! Every sailing departing from the shores of Florida will make a special stop at the breath-taking Castaway Cay, a secluded island paradise exclusively reserved for Disney Cruise Line guests. Nestled amidst stunning turquoise waters in the Bahamas, Castaway Cay offers the ultimate getaway for everyone in your family. Whether you're seeking thrilling adventures, peaceful relaxation, or cherished moments together, this picturesque haven has it all. Get ready to create cherished memories and embark on a truly magical experience that will leave you with a lifetime of joy. Speak with our friends at Orlando Insider to find out about booking a Disney Cruise with a stay at Walt Disney World.
On May 5, 2024, this incredible ship will set sail from Fort Lauderdale and head to Europe, where it will spend the entire summer exploring some of the most stunning destinations. Prepare to be amazed as you cruise through Barcelona, Civitavecchia, and Southampton, taking in the beauty of the Mediterranean, Greek Isles, Norwegian Fjords, Iceland, and various other European regions, including the captivating British Isles.
But that's not all! The Dream's summer sailings have even more to offer. Brace yourself for three exciting new ports of call: Valencia in Spain, Haugesund in Norway, and Hamburg in Germany. And if that wasn't enough, three remarkable Mediterranean ports are making a comeback since 2014: Catania in Italy, Kusadasi in Turkey, and Valletta in Malta. It's like discovering these hidden gems all over again!

Get ready to embark on an extraordinary journey, filled with joy, enchantment, and unforgettable memories. The Disney Dream awaits you, ready to make all your dreams come true! Speak with a Disney Cruise Guru about your Disney Dream Cruise.
Book your Disney Dream Ship Holiday
Speak to one of the team to find out about booking your cruise onboard the Disney Dream or even Disney Cruise Line's new ships, Disney Wish & Disney Treasure. Whether you're looking to add a Disney cruise to your Walt Disney World holiday or interested in one of the Summer 2024 UK cruise deals, we're here to help you have the most magical time at sea.
Which is the best way for you to contact us?
Call Me Please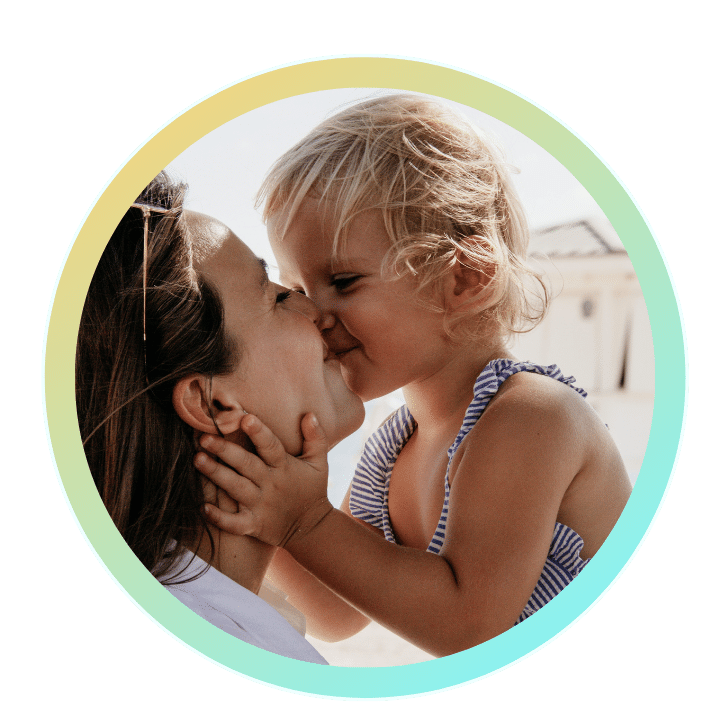 Call Me Please
Get in touch