Cape Canaveral Cruise Attractions: Best Things To Do In Port Canaveral
Port Canaveral, Florida is not only one of the biggest cruise ports in the world, but it also offers a wide range of activities and attractions for visitors to enjoy. From space exploration to wildlife encounters, there is something for everyone in this vibrant coastal destination. In this blog post, we will take a closer look at the top things to do in and near Port Canaveral.
What You're Going To Find Out
Is it Port Canaveral or Cape Canaveral?
Ok, let's address the elephant in the room. Is it Port Canaveral or Cape Canaveral? Or even Cape Kennedy?
Port Canaveral is one of the busiest cruise terminals in the world and the Cape Canaveral is where the Cape Canaveral Space Force Station is.
Because a bunch of American spaceships have been sent off from both the station and the Kennedy Space Center on the nearby Merritt Island, people sometimes mix them up and think they're the same thing.
From 1954 to 1962, the place was known as "Port Canaveral", and then it was changed to "City of Cape Canaveral" from 1962 to 1963, when they built a bigger post office.
In 1963, President Lyndon Johnson made a decision to rename the area "Cape Kennedy", in honour of President John F. Kennedy, who had set the ambitious goal of landing on the Moon. Sadly, after Kennedy's tragic assassination in November 1963, his wife Jacqueline Kennedy suggested to President Johnson that renaming the Cape Canaveral facility would be a fitting tribute to her late husband. President Johnson agreed and decided to rename the entire cape, which he announced on national television on November 28, 1963, just six days after Kennedy's untimely death on Thanksgiving evening. Therefore, Cape Canaveral officially became Cape Kennedy.
JFK had visited the space facility for the last time on November 16, 1963, only six days before his passing. The final Mercury mission had already been completed six months prior to that.
Even though the U.S. Board on Geographic Names of the Department of the Interior approved the name change in December 1963, it was not well-received in Florida, particularly in Cape Canaveral. However, in a great display of determination, the Florida Legislature passed a law in May 1973 to bring back the original 400-year-old name. This decision was supported by the Board, making Cape Canaveral official once again on 9 October 1973.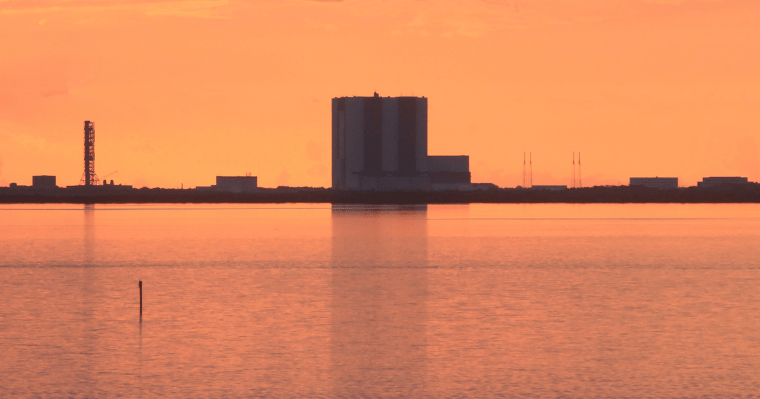 Kennedy Space Center Visitor Complex #1 Port Canaveral Attraction
You simply cannot miss out on the opportunity to explore the iconic Kennedy Space Center Visitor Complex. This extraordinary attraction is a must-visit for all space enthusiasts on Florida's Space Coast, offering an unforgettable experience that combines education and entertainment.
At the Kennedy Space Center Visitor Complex, you'll want to delve into the captivating world of space exploration. The complex features a wide range of exhibits, showcasing the history and future of NASA's ground-breaking missions. From the early days of the Mercury and Gemini programs to the unprecedented achievements of the Apollo moon landings, each exhibit tells a story of human ingenuity and perseverance.
In addition to engaging exhibits, the Visitor Complex also offers interactive attractions that allow visitors to experience space in unique and exciting ways. Step into a training simulator to feel what it's like to be an astronaut, or explore the wonders of the universe through immersive virtual reality experiences.
One of the highlights is the behind-the-gates bus tour. This exclusive tour takes you on a journey through NASA's restricted areas, giving you a glimpse of the actual launch sites and facilities used for current and future space missions. It's a rare opportunity to see up-close the incredible technology and infrastructure that supports space exploration.
Whether you're a die-hard space enthusiast or simply curious about the wonders of the universe, the Kennedy Space Center Visitor Complex promises an unforgettable experience. Don't miss your chance to explore this remarkable attraction and be inspired by the limitless possibilities of space travel.
Can I Visit The Kennedy Space Center On A Cruise?
Absolutely. Most cruise lines with itineraries docking at Port Canaveral will offer shore excursions to the Space Center. It's the number 1 thing to do in Cape Canaveral. We'd recommend hiring a car if you're heading back to Orlando. The Space Center is a short drive from the cruise terminal. If your cruise finishes here and you're flying the same day from either Orlando or Melbourne airports, this is a great place to explore before your flight back to the UK.
Are you new to cruising?
First Time Cruise Help
If it's your first time cruising, it can all seem overwhelming and confusing. That's why we offer a First Time Cruise Help Service at Rock the Boat Travel Agency.
The best place to start is by talking with one of our team members. It all starts with you – finding out what you like and just as important, what you don't like. Coupled with our cruise know-how, we'll suggest the perfect first time cruise for you. Request a call with one of our team.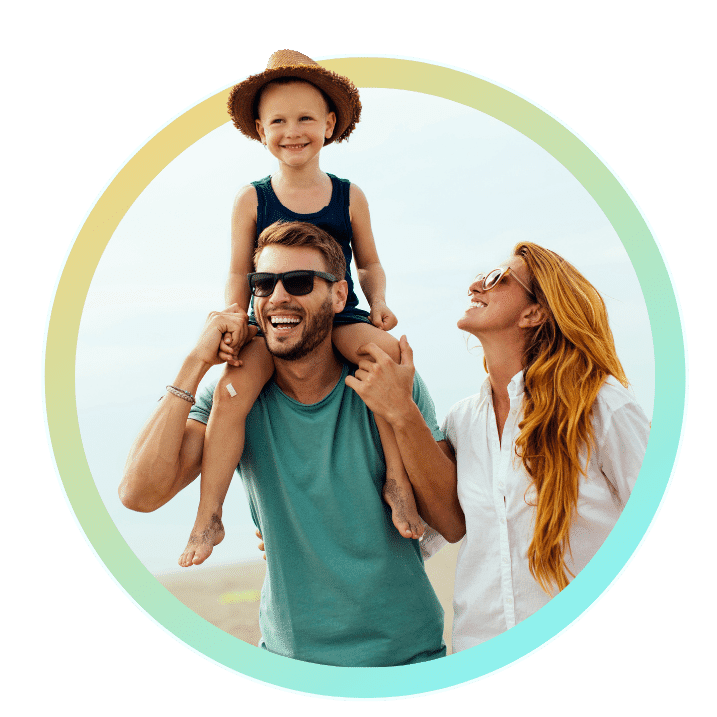 Can I Watch A Rocket Launch?
Yes, if you're lucky you can see a rocket launch. Observing a real-life rocket take-off is an absolute mind-blowing sensation that should be on everyone's ultimate to-do list. The Visitor Launch Complex offers public vantage points for these epic launches, complete with expert commentary from the geniuses of outer space. These prime viewing spots are situated just a stone's throw away from the actual launch pads, allowing you to witness and physically experience the jaw-dropping moment when spaceships bravely venture away from our humble planet, propelled by the unstoppable force of colossal rocket engines. Speak to one of our Cruise Gurus to help start planning your holiday to Florida.
Check out the current launch schedule https://www.kennedyspacecenter.com/launches-and-events/events-calendar/see-a-rocket-launch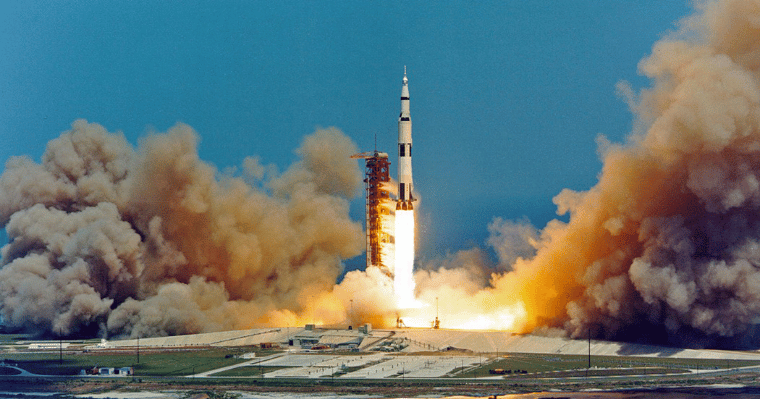 American Space Museum
For more space-related fun, the American Space Museum is a must-visit destination for space enthusiasts. This remarkable museum showcases an impressive collection of items donated by astronauts, space workers, and NASA, thus preserving the rich history of the US space program.
One of the captivating aspects of the American Space Museum is the opportunity to get up close and personal with authentic artifacts from space travel. From actual spacesuits worn by astronauts to rare photographs captured during historic missions, the museum offers a unique glimpse into the world of space exploration.
Visitors can also marvel at the extensive display of spacecraft models, each representing a significant milestone in space technology. The exhibits provide valuable insights into the evolution of space exploration, highlighting the achievements and challenges faced by NASA and its team.
The American Space Museum offers educational programs and interactive exhibits designed to engage visitors of all ages. Whether you are a science enthusiast, or simply curious about the wonders of space, there is something for everyone to enjoy and learn from at this museum.
In addition to its interesting exhibits, the American Space Museum hosts special events and guest speakers, providing further opportunities to delve into the fascinating world of space exploration. By attending these events, visitors can gain a deeper understanding of the historical significance and ongoing advancements in space science and technology.
To fully immerse yourself in the wonders of the US space program, a visit to the American Space Museum is an absolute must. Come and explore the captivating world of space travel, and be inspired by the incredible achievements made by NASA.
A Thrilling Gator Experience At The Saint Johns River
Embark on an unforgettable adventure with airboat rides on the stunning Saint Johns River. Get ready to immerse yourself in the beauty and wonders of nature as you zoom across the water, encountering incredible wildlife along the way. This thrilling experience offers a unique perspective of the region's diverse ecosystem, providing an up-close encounter with alligators, birds, and other fascinating creatures.
As you glide through the waters on an airboat, you'll feel a sense of excitement and anticipation, knowing that every turn could reveal a new and awe-inspiring sight. The Saint Johns River boasts an abundance of wildlife, making it a prime destination for nature enthusiasts and adventure seekers alike.
Picture yourself observing the majestic alligators in their natural habitat, their powerful bodies gliding through the water with grace and precision. Marvel at the sight of colourful birds soaring above you, their feathers glistening in the sunlight. Keep an eye out for other creatures that call this river home, such as turtles, otters, and fish.
Not only will you get to witness these incredible animals, but you'll also have the opportunity to learn about their behaviour, habitats, and conservation efforts. Knowledgeable guides will accompany you on your airboat ride, providing fascinating insights and answering any questions you may have.
Make sure to bring your camera along to capture these magical moments and create lasting memories. Whether you're a nature lover, a wildlife enthusiast, or simply seeking an adrenaline rush, airboat rides on the Saint Johns River offer an unforgettable experience that should not be missed.
Thinking about visiting Florida? Speak with a Cruise Guru to start your holiday planning.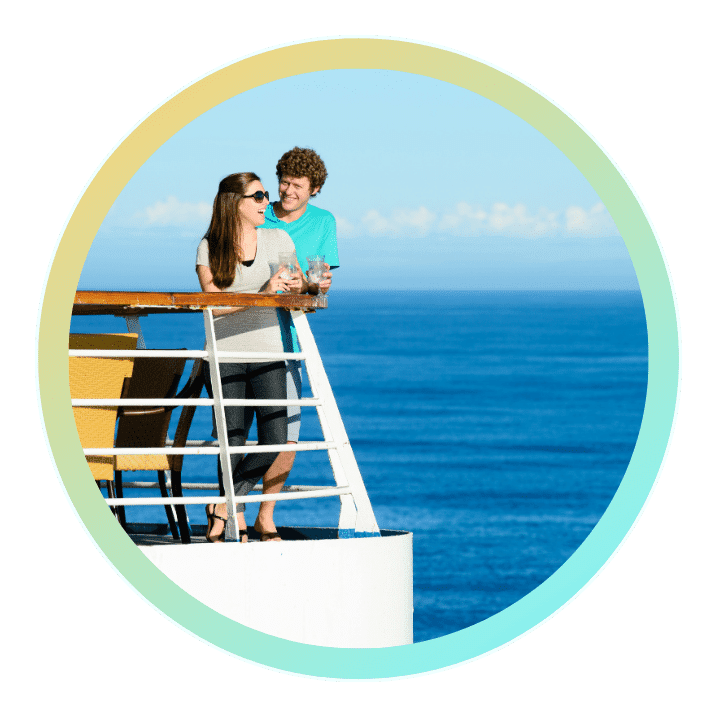 ATOL Protected Cruises
Putting You First
As part of Travel Counsellors, we offer peace of mind and are ATOL protected. Established back in 1994, we're now one of the UK's largest independent travel companies. Our mission is to bring you exceptional customer service & unbeatable value for money.
Plus, we're always here to help – our 24 hour duty office means you can always get in touch with us no matter what time of day or night it is. It's good to know you're in safe hands when you cruise with us.
Merritt Island National Wildlife Refuge
Nature lovers will delight in the beauty of Merritt Island National Wildlife Refuge. With its vast expanse of walking paths, hiking trails, and wildlife observation opportunities, this 140,000-acre national park is a haven for outdoor enthusiasts.
Step into a world of natural wonders as you explore the breath-taking landscapes and diverse ecosystems of Merritt Island National Wildlife Refuge. The refuge is home to an incredible variety of wildlife, from migratory birds and bald eagles, to manatees, reptiles and alligators. Birdwatchers will be thrilled by the chance to spot rare species and you may see the Florida scrub-jay and the elusive snail kite.
Embark on a leisurely stroll or an invigorating hike along the many well-maintained trails that wind through the refuge. As you walk, take in the stunning vistas of wetlands, marshes, and forests that stretch as far as the eye can see. Keep your camera at the ready, as you never know when you'll encounter a photo-worthy moment.
Don't forget to bring your binoculars! The refuge's numerous observation points provide fantastic opportunities to observe wildlife up close without disturbing their natural habitats. Whether you're an avid birder or simply enjoy the serenity of nature, you're sure to find something that captivates you.
Plan your visit to Merritt Island National Wildlife Refuge today and immerse yourself in the splendour of the natural world. This extraordinary sanctuary is a treasure trove of biodiversity and a testament to the importance of conservation. Come discover why it's a must-visit destination for outdoor enthusiasts.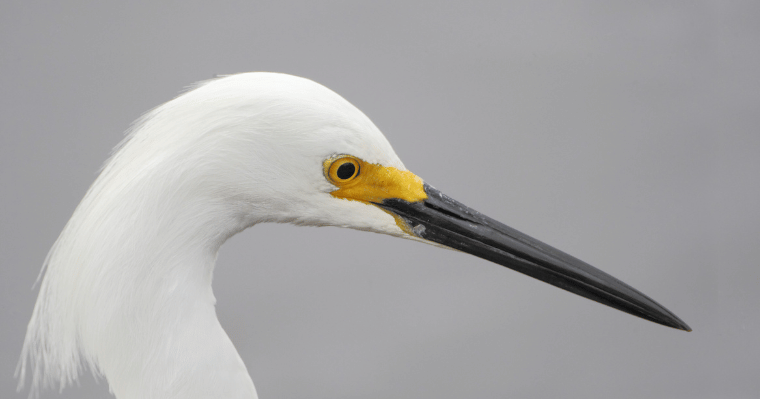 Take Your Holiday To New Heights With An Aerial Adventure
Experience the thrill of soaring through the skies and witness the beauty of Port Canaveral and its stunning surroundings on a helicopter tour. This once-in-a-lifetime opportunity offers a breath-taking aerial view that will leave you in awe.
Imagine gazing down upon the vast expanse of the ocean, with ships dotting the horizon as they arrive and depart from the port. The shimmering waters stretch out as far as the eye can see, contrasting against the white sand beaches of Cocoa Beach.
As you continue your journey, you'll be treated to a spectacular sight – the Thousand Islands. This unique natural wonder is a collection of small islands and mangrove trails, forming a labyrinth of waterways. From above, it looks like a mesmerizing painting.
Whether you're a local or a visitor, a helicopter tour is an unforgettable experience. It's the perfect way to appreciate the beauty and grandeur of the coastal landscape. The aerial perspective allows you to witness the vibrant colours and intricate details that can only be fully appreciated from above.
Soar above the bustling port and take in the sights that make this area so special. From the gleaming boats to the pristine beaches and the awe-inspiring Thousand Islands, a helicopter tour is sure to be a highlight of your visit.
Experience the Enchanting Glow of Bioluminescence Tours
Discover the mesmerizing beauty of the Indian River and Banana River Lagoons with a captivating bioluminescence tour. Prepare to be swept away by the ethereal glow that illuminates the dark night waters, creating a magical spectacle like no other.
Embark on a thrilling adventure as you choose between a kayak or rafting tour, providing you the perfect vantage point to witness nature's breath-taking light show. Glide through the tranquil waters, feeling a sense of serenity wash over you as you immerse yourself in this unique experience.
As the night falls, witness the water come alive with shimmering blue-green lights, caused by tiny organisms known as dinoflagellates. Kayaking along, watch in awe as these bioluminescent organisms respond to your movements, creating a trail of sparkling light in their wake. It's as if the very waters themselves are alive and dancing around you.
Whether you're an avid nature lover, a photographer in search of the perfect shot, or simply seeking a moment of awe-inspiring wonder, a bioluminescence tour is an experience you won't soon forget. Capture the magic with your camera or simply immerse yourself in the beauty with your own eyes, every moment is sure to be etched in your memory.
Get Ready To Rock The Boat!
So if you are looking for the perfect cruise and need some expert advice, look no further than Rock the Boat! We'll help you find exactly what you're looking for to make sure your cruise holiday dreams become reality. Get ready to Rock The Boat!
Manatee Sanctuary Park And Dolphin Kayak Tour
Experience the wonders of nature and embark on an unforgettable journey with a Manatee and Dolphin Kayak Tour. Dive into the crystal-clear waters and get up close and personal with these gentle giants and playful dolphins. It's an adventure like no other!
The guided tour takes you to the natural habitats of these magnificent sea mammals, allowing you to witness their beauty and grace first-hand. Glide through calm, shimmering waters surrounded by lush greenery, as you marvel at the stunning scenery.
As you paddle along, keep your eyes peeled for manatees gracefully gliding beneath you. These peaceful creatures are known for their friendly nature, and if you're lucky, they may even come up to say hello. Snap some incredible photos to capture the magic of the moment.
But the excitement doesn't stop there. Dolphins are known to frequent these waters, and you'll have the opportunity to watch them playfully jumping and splashing around. It's a sight that will put a smile on your face and warm your heart.
Experienced guides will ensure your safety and provide you with fascinating information about these fascinating creatures. They'll share interesting facts, anecdotes, and conservation efforts that are being made to protect their habitats.
Sounds good to you? Start planning your Florida holiday.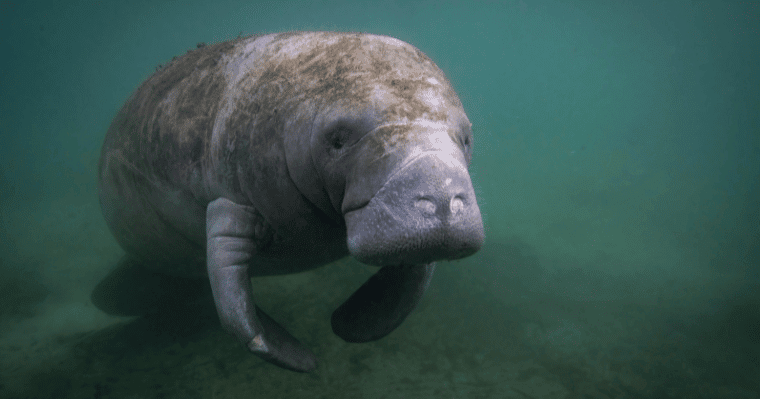 Relax At Cocoa Beach On The Space Coast
Nearby Cocoa Beach is a paradise for beach lovers. With its sandy shores, excellent surf, and the lively Westgate Cocoa Beach Pier, visitors can experience the ultimate coastal getaway. Whether you're looking to relax on the beach or indulge in thrilling water sports, it offers something for everyone.
One of the highlights is its beautiful sandy shores. Stretching for miles along the Atlantic coast, the beach is perfect for sunbathing, building sandcastles, or taking a leisurely stroll. The sound of crashing waves and the salty sea breeze create the ideal ambiance for a tranquil beach experience.
For those seeking adventure, the area is renowned for its excellent surf. Whether you're a seasoned surfer or a beginner looking to ride your first wave, the beach offers ideal conditions for catching waves. You can rent surfboards, take a surf lesson, or simply watch the pros showcase their skills from the comfort of the sandy shore.
The lively Westgate Cocoa Beach Pier adds to the vibrancy of the beach atmosphere. Extending 800 feet over the ocean, the pier features a variety of amenities and attractions. Enjoy a delicious meal at one of the waterfront restaurants, sip on a refreshing cocktail while enjoying panoramic views, or shop for souvenirs at the local boutiques. The pier is also a popular spot for fishing, allowing visitors to try their luck and reel in the catch of the day.
Whether you're a beach lover, a surf enthusiast, or simply looking for a relaxing coastal retreat, Cocoa Beach is the perfect destination. Soak up the sun, indulge in water sports, and immerse yourself in the vibrant beach atmosphere.
Other Attractions in Cocoa Beach
In addition to its beautiful beach, Cocoa Beach offers a range of attractions that will make your visit unforgettable. Whether you're a surfer, a history enthusiast, or just looking to relax, there's something for everyone in this charming coastal town.
Ron Jon Surf Shop
Make sure to visit the renowned Ron Jon Surf Gift Shop, the world's largest surf shop. Here, you'll find a wide selection of surfboards, beachwear, and accessories. Whether you're an experienced surfer or a beginner, the knowledgeable staff will help you find everything you need to hit the waves in style.
Dinosaur Store and Museum
If you're looking for a unique experience, don't miss the fascinating Dinosaur Store and Museum. Step back in time as you explore the extensive collection of fossils, minerals, and artifacts. The interactive exhibits and knowledgeable guides make this museum a must-visit attraction for all ages.
Stroll By Beachside Restaurants, Bars, and Souvenirs
After a day of exploring, head to one of the beachfront restaurants, bars, or shops to relax and indulge in local cuisine and entertainment. Whether you're craving fresh seafood, a refreshing cocktail, or some retail therapy, Cocoa Beach has it all. From quaint beachside cafes to lively bars with live music, there's an option for every taste.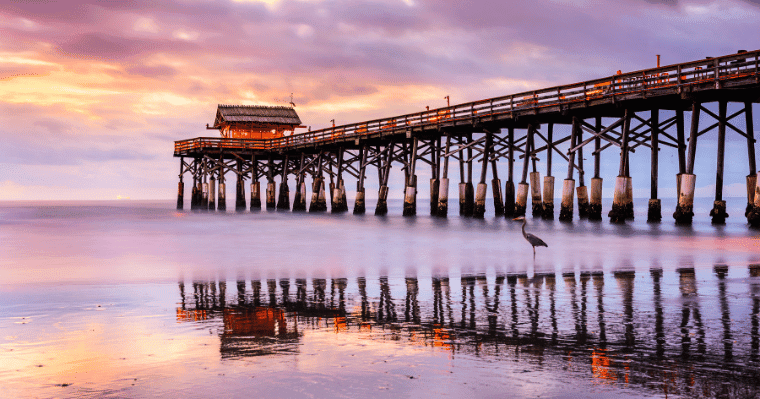 Dining with a View
When it comes to dining experiences, there's nothing quite like enjoying a delicious meal with a breath-taking view. You have the unique opportunity to savour your favourite dishes while watching majestic cruise ships sail out of the port.
Two restaurants, Fish Lips and Rusties, stand out for offering not only delectable food but also stunning vistas.
Fish Lips: Nestled right on the water, Fish Lips provides a picturesque setting where you can indulge in fresh seafood while gazing at the vast expanse of the ocean. As you enjoy their mouth-watering dishes, you'll witness the vibrant colours of the sunset reflecting off the tranquil waters, creating a truly magical ambiance.
Rusties: Situated on a prime location overlooking the port, Rusties offers a captivating dining experience. As you savour their delectable menu options, you'll have a front-row seat to witness the departure of the cruise ships. From the comfort of your table, you can marvel at the sheer size and elegance of these magnificent vessels, as they embark on their journeys to far-off destinations.
Dining with a view combines the pleasure of great food with awe-inspiring surroundings. Whether you choose Fish Lips or Rusties, your taste buds and senses will be delighted as you enjoy a meal with an unforgettable backdrop. So, don't miss out on this exceptional opportunity to make the most of your time in Florida.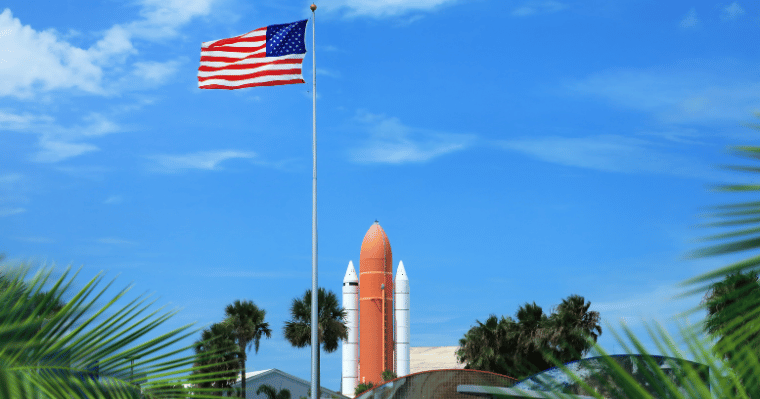 Our Favourite Things To Do In Port Canaveral
Port Canaveral is a destination that truly has it all. From space exploration to wildlife encounters, from stunning views to sandy beaches, there is no shortage of activities and attractions to enjoy. Whether you're a cruise passenger or a visitor, it promises an unforgettable experience that will leave you with lasting memories.
One of the main highlights is its rich history and connection to space exploration. As the designated gateway to the cosmos, visitors have the unique opportunity to learn about NASA's space missions and even witness rocket launches firsthand. The Kennedy Space Center Visitor Complex offers an immersive experience where you can explore space artifacts, meet astronauts, and even step inside a space shuttle.
The area is home to diverse wildlife, including dolphins, manatees, and various bird species. You can take a wildlife tour to observe these creatures in their natural habitats or embark on a fishing expedition to catch some of the most sought-after game fish. The pristine beaches along the coast provide the perfect setting for relaxation or water activities such as swimming, surfing, and paddleboarding.
When it comes to dining and entertainment, Port Canaveral has a wide range of options to suit every taste. From casual waterfront restaurants offering fresh seafood to upscale establishments showcasing gourmet cuisine, there is something for everyone.
Which is the best way for you to contact us?
Call Me Please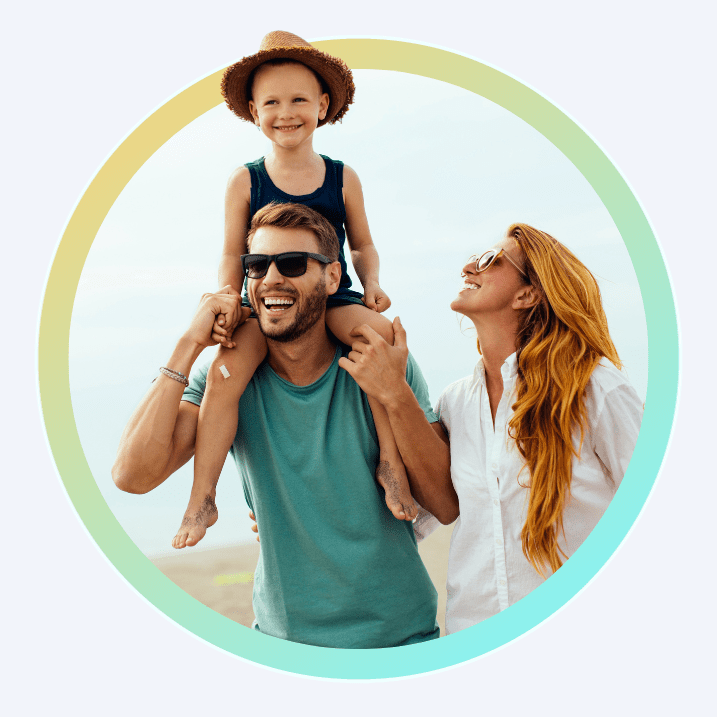 Get in touch
Call Me Please