Norwegian Breakaway Cruise Ship Review
The Norwegian Breakaway is a super cool cruise ship. It has lots of great things to do and tasty food to eat. You can watch West-End style shows, visit amazing destinations, plunge down the waterslides or just relax. Let's find out all about Norwegian Breakaway and all the fun things you can do on this awesome ship.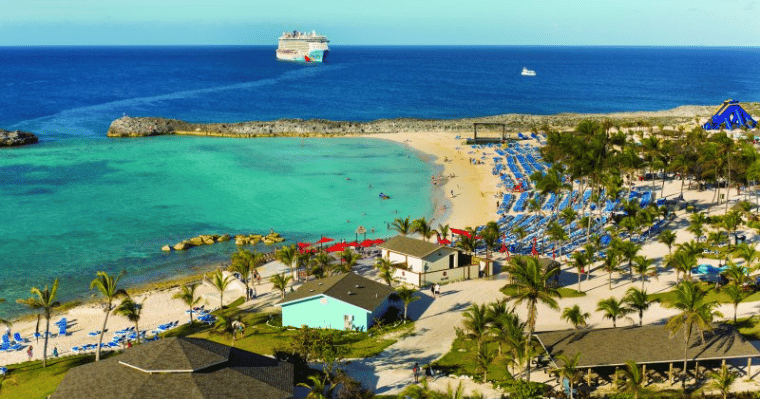 What You're Going To Find Out
The Norwegian Breakaway Cruise Ship Highlights
When it comes to cruise ships, this one stands out for its numerous innovations and highlights that make it a memorable experience for guests. Norwegian Cruise Lines has truly outdone themselves with this vessel, offering a range of unique features and amenities that cater to different interests and preferences.  I had an excellent cruise when I sailed onboard Breakaway.  There's something on board for everyone.
Here are some of my highlights:
1. The Waterfront
One of the standout features of the NCL Breakaway is its impressive Waterfront oceanfront promenade. This outdoor space offers guests the opportunity to dine and relax while enjoying breath-taking ocean views. Whether you're enjoying a delicious meal at one of the restaurants or simply lounging on a comfortable chair, the Waterfront provides a serene and picturesque setting.
2. Thrilling Water Slides
For those seeking a splash of adventure, the Aqua Park boasts thrilling water slides. Whether you're a kid or a kid at heart, these water slides offer hours of adrenaline-pumping fun. Feel the rush as you zoom down the slides and make a splash into the refreshing pool below.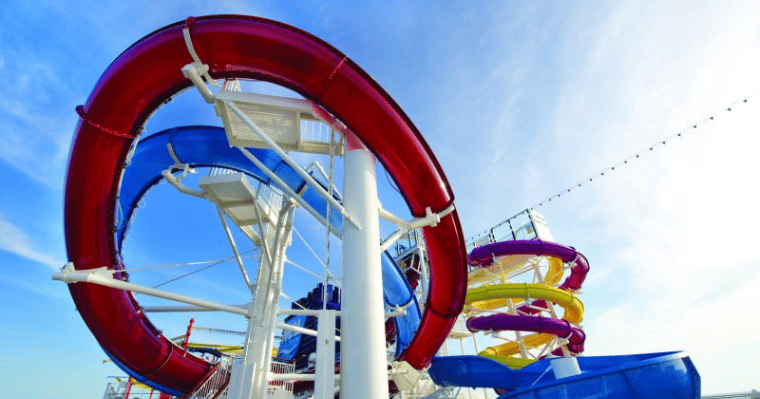 3. Family-Friendly and Adult-Only Areas
NCL understands the importance of catering to all types of guests. That's why the ship offers both family-friendly and adult-only areas. Families can enjoy dedicated spaces where children can engage in age-appropriate activities and have a blast with other kids. At the same time, adults can find their ideal retreat in serene and exclusive areas designed for relaxation and tranquillity.
4. Walking and Jogging Track
Whether you prefer to take a leisurely stroll or get your heart pumping with a jog, this track offers a beautiful quarter-mile route to keep you active during your vacation. Enjoy the fresh ocean breeze as you exercise and take in stunning sea views.
5. Pool Deck and Hot Tubs
The pool deck is a hub of relaxation and fun onboard the Norwegian Breakaway. With multiple pools and hot tubs, it's the perfect place to cool off, unwind, and soak up the sun. Whether you're swimming in the crystal-clear waters or enjoying a relaxing soak in the hot tub, the pool deck offers a refreshing oasis for guests of all ages.
6. Onboard Sports Court and Ropes Course
Sports enthusiasts will be delighted by the multi-level sports complex and ropes course onboard. Challenge friends and family to a game of basketball or volleyball, or test your agility on the exciting ropes course. It's a fantastic opportunity to stay active while having a blast at sea.  OK, I'm not great with heights so I might not have braved the ropes course.  But if you're a bit of a daredevil, it looks a lot fun.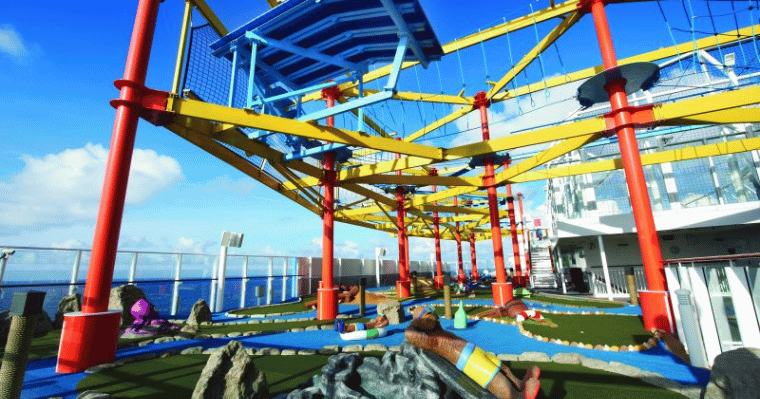 7. Exclusive Spice H2O Area
Adults looking to unwind and escape the hustle and bustle of everyday life will find solace in the exclusive Spice H2O area. This adults-only retreat offers a serene environment with comfortable seating, a bar serving refreshing drinks, and stunning panoramic views. Relax, recharge, and let your worries melt away in this tranquil oasis.
8. Tasty Treats & Dining
Take a different culinary adventure with every restaurant.  From complimentary dining & buffet to speciality restaurants such as Teppanyaki, there's something for every taste.    You'll regularly find me in the O'Sheehan's Neighborhood bar at 1am ordering chicken wings!
9. Sun Deck with Loungers and Bar
Finally, the spacious sundeck where guests can relax on comfortable loungers and enjoy a refreshing beverage from the onboard bar. Whether you're basking in the sun, catching up on your favourite book, or simply taking in the spectacular views, the sun deck is the perfect place to unwind and embrace the laid-back vacation vibes.
All in all, the Norwegian Breakaway is a cruise ship that truly offers something for everyone. From the stunning Waterfront area to the thrilling water slides, the ship's innovations and highlights create a diverse range of experiences for all guests. Whether you're seeking adventure, relaxation, or delicious dining options, this vessel has it all. Embark on a journey like no other and create memories that will last a lifetime.
Speak with a Cruise Guru about sailing onboard NCL Breakaway
Complementary Main Dining Rooms
The three main dining rooms are all included in your cruise fare.  These elegant venues offer a range of cuisine options, from comfort food to international delights. Each dish is meticulously prepared by the ship's talented culinary team, ensuring a memorable dining experience for all guests.  Unlike other cruise lines, you're free to dine anytime you like.
Specialty Restaurants and Casual Eateries
In addition to the main dining rooms, they also offers a variety of specialty restaurants and casual eateries. From the vibrant flavours of Brazilian cuisine at Moderno Churrascaria to the intimate and upscale atmosphere of Cagney's Steakhouse, these specialty restaurants provide unique culinary experiences that will satisfy even the most discerning foodie.
If you're looking for a quick bite or a more relaxed dining experience, the casual eateries onboard have got you covered. Enjoy a slice of pizza or a juicy burger by the poolside at the Garden Café, or grab a sandwich and a freshly brewed cup of coffee at the Atrium Café and Bar. These casual venues ensure that you never have to compromise on taste or quality, even when you're in a more laid-back setting.
Whether you're a food enthusiast or simply someone who enjoys a good meal, NCL offers dining options that will appease every palate. From the flavours of Italy to the spices of Asia, from fresh seafood to sizzling steaks, this ship is a culinary paradise waiting to be explored.
Book a call back with a Cruise Guru
Italian Delights at La Cucina
If you're a fan of Italian cuisine, you won't be disappointed by La Cucina. This charming restaurant captures the essence of Italy with its warm, rustic ambiance and delicious menu. Indulge in traditional pasta dishes, wood-fired pizzas, and delectable desserts. Each bite will transport you to the streets of Rome or the coast of Tuscany.
Are you new to cruising?
First Time Cruise Help
If it's your first time cruising, it can all seem overwhelming and confusing. That's why we offer a First Time Cruise Help Service at Rock the Boat Travel Agency.
The best place to start is by talking with one of our team members. It all starts with you – finding out what you like and just as important, what you don't like. Coupled with our cruise know-how, we'll suggest the perfect first time cruise for you. Request a call with one of our team.
A Classic Steakhouse Experience at Cagney's Steakhouse
For those seeking a hearty steak or mouth-watering seafood, Cagney's Steakhouse is the place to be. This classic steakhouse offers a variety of cuts, cooked to perfection and served with your choice of delectable sauces. From tender filet mignon to juicy ribeye, every bite is a testament to the chef's culinary expertise. Pair your steak with a side of lobster tail for the ultimate surf and turf experience.
Brazilian Steakhouse Experience at Moderno Churrascaria
If you're looking for a unique dining experience, head to Moderno Churrascaria. This Brazilian-style steakhouse combines a buffet line with table-side service, offering a wide selection of meat options. Gauchos, dressed in traditional attire, will carve succulent cuts of beef, pork, lamb, and chicken right at your table. Don't forget to visit the salad bar for a variety of fresh greens, vegetables, and other accompaniments.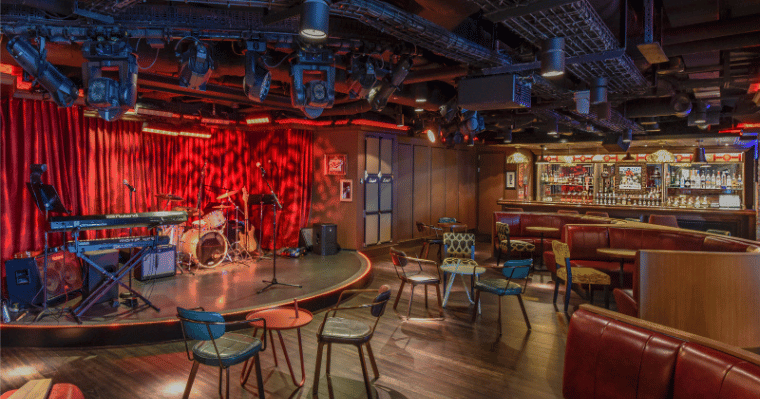 Entertainment, Nightlife & Onboard Activities
When it comes to entertainment and nightlife, the Norwegian Breakaway truly delivers an unforgettable experience. The ship offers a vibrant and exciting entertainment scene that caters to all tastes and preferences. From captivating theatre productions to lively nightclubs, there is something for everyone onboard.
Theatre Productions
The Norwegian Breakaway's theatre hosts a variety of live entertainment that are sure to impress guests of all ages. Burn the floor was a highlight. Enjoy dazzling dancing with a Latin flavour.
Syd Norman's Pour House
 Experience the electrifying atmosphere of Syd Norman's Pour House, where the raw charm of brick walls merges with the pulsating energy of live rock 'n' roll.  Engage in enlightening conversations with the bartender, whose vast knowledge spans from Axl to Mick. Let loose and sing your heart out to timeless classics you adore, because remember, it's just rock 'n' roll but you're bound to absolutely adore it!
Headliners Comedy Club
If you're in the mood for laughter, the Headliners Comedy Club is the perfect spot. This venue features comedy shows and duelling pianos, guaranteeing a night of side-splitting laughter and entertainment. Sit back, relax, and enjoy the performances of talented comedians and musicians as they bring the house down with their wit and talent.
Later in the evening, join an incredible duo of musicians and pianos. It's an absolute blast that you won't want to experience on your own. Bring along your pals and your top song requests. Get ready for Howl at the Moon, the extraordinary duelling piano show at Headliners.  Get ready to sing along and dance the night away as our exceptionally talented musicians rock out and perform the best hits from the 70s, 80s, 90s, and even today. Feel like hearing a timeless Billy Joel classic? Or perhaps some Lady Gaga? These versatile musicians are up for anything. So prepare yourself for an unbelievably entertaining time that will leave you howlin' with joy. 
ATOL Protected Cruises
Putting You First
As part of Travel Counsellors, we offer peace of mind and are ATOL protected. Established back in 1994, we're now one of the UK's largest independent travel companies. Our mission is to bring you exceptional customer service & unbeatable value for money.
Plus, we're always here to help – our 24 hour duty office means you can always get in touch with us no matter what time of day or night it is. It's good to know you're in safe hands when you cruise with us.
Bars and Lounges
The Norwegian Breakaway is also home to many bars and lounges serving a wide variety of drinks. The Martini Bar, located in the hub of the ship, is a stylish and sophisticated space perfect for enjoying a classic cocktail. If you're a whiskey enthusiast, be sure to visit the Maltings Whiskey Bar, where you can sample a wide selection of top-quality whiskies from around the world.
With its range of entertainment options, the Norwegian Breakaway ensures that guests can enjoy unforgettable evenings onboard. Whether you prefer theatre performances, dancing the night away, live music while dining, or hilarious comedy shows, there is something for everyone to enjoy.
Dedicated Zones for Kids and Teens
There's never a dull moment for younger sailors with dedicated zones designed specifically for kids and teens. The Splash Academy is a paradise for children, offering a wide range of engaging and educational activities supervised by trained youth counselors. From arts and crafts to interactive games and themed parties, kids will have a blast in this safe and exciting environment.
For teenagers, the Entourage teen club is the place to be. This exclusive hangout offers a space where teens can socialise, play games, watch movies, meet up with friends and take part in fun activities tailored to their age group. With a dedicated lounge area, video games, and a dance floor, the Entourage club is the perfect spot for teens to relax and make new friends.
Find out more and get in touch.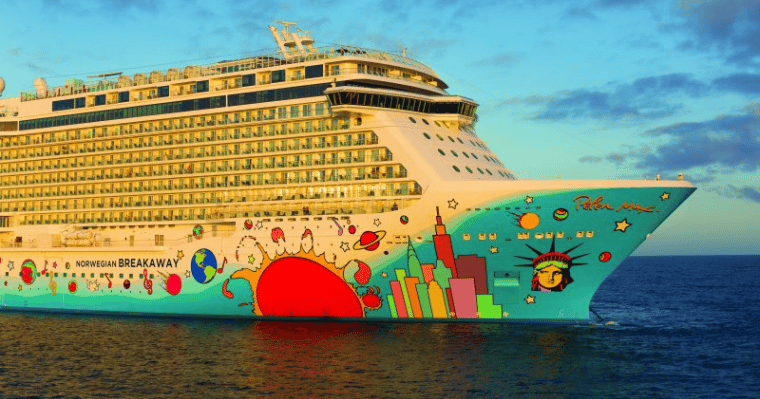 Fitness Centre for Health Enthusiasts
Staying active and maintaining your fitness routine is a breeze on the Norwegian Breakaway. The ship's state-of-the-art fitness centre is equipped with top-of-the-line cardio equipment, free weights, circuit equipment, and an aerobic studio for classes. Whether you prefer a high-intensity workout or a relaxing yoga session, you'll find everything you need to stay in shape while enjoying your cruise.
Breakaway Stateroom Review
The ship offers a wide choice of staterooms.
The Studios are perfect for people travelling alone and are specifically made and priced for them. They come with a big bed, a separate bathroom and you also get to use the private Studio Lounge, without having to pay extra for being alone.
Chill out in a cool and classy vibe. The awesome inside staterooms have cool stuff like a TV, chill spot, and all that. You also save mad cash compared to other cabins.
Feel completely at ease with the utmost comfort at your fingertips. Get ready to relax and feel cozy wherever you go. These awesome Oceanview staterooms have classy details that are made even better with cool extras and incredible ocean views.
Enjoy stunning views with your loved ones or the whole family. The rooms are designed with floor-to-ceiling glass doors that lead to your own cosy balcony. These modern balcony rooms are beautifully furnished with elegant and classy touches.
Tucked away on the upper deck of the cruise ship, The Haven offers our fanciest and most lavish rooms, along with round-the-clock butler assistance, concierge service and a personal sunbathing area.
Get Ready To Rock The Boat!
So if you are looking for the perfect cruise and need some expert advice, look no further than Rock the Boat! We'll help you find exactly what you're looking for to make sure your cruise holiday dreams become reality. Get ready to Rock The Boat!
See Breakaway Cruise Destinations
Take a Caribbean cruise and immerse yourself in the vibrant culture and stunning natural beauty of the region. Explore pristine beaches, indulge in water activities such as snorkelling and scuba diving, and soak up the sun while sipping a refreshing cocktail. Unwind on the deck of your luxurious cruise ship as you sail past lush landscapes and turquoise waters.
One highlight of your Caribbean cruise is the chance to swim alongside dolphins. Dive into the crystal-clear waters and interact with these intelligent and playful creatures. Experience the thrill of being up close and personal with dolphins as you learn about their behaviours and even get to touch and swim alongside them.
For history enthusiasts, a Mediterranean cruise offers a fascinating journey through ancient civilizations. Visit iconic sites such as the Colosseum in Rome, the Acropolis in Athens, Gorgeous Santorini and the La Sagrada Familia in Barcelona.
Explore charming coastal towns and picturesque islands, sampling delicious Mediterranean cuisine and immersing yourself in the rich local culture in some amazing ports.
As you sail across the Atlantic Ocean on a Transatlantic journey, take advantage of the leisurely days onboard. Relax by the pool, indulge in spa treatments, or catch up on your favourite book. Enjoy world-class dining experiences, captivating entertainment, and luxurious accommodations as you make your way to your destination.
Whether you choose a Caribbean cruise, a Mediterranean adventure, or a Transatlantic journey, each itinerary promises delightful moments, unforgettable memories, and a chance to escape from the everyday hustle and bustle. Let the ocean waves carry you away to exotic destinations and create lifelong memories on your next cruise holiday.
Which is the best way for you to contact us?
Call Me Please
Get in touch
Call Me Please