Save On Your Next Virgin Voyages Holiday
Looking for a holiday? Virgin Voyages has got you covered with their amazing cruise offers and deals. And if you're an NHS staff member, you're in for a treat! You can now enjoy exclusive discounts on your next cruise with Virgin Voyages. Just apply the NHS discount code when you book and save money on your dream holiday. This offer is only available when you book your Virgin Voyages holiday with Rock The Boat.
Set Sail With Virgin Voyages
Virgin Voyages offers a wide range of exciting destinations to explore. Whether you prefer a Caribbean getaway, a trip to Barcelona, or a sailing around Australia, there's an option for everyone. With Virgin Voyages, you'll experience a unique and unforgettable holiday filled with stunning destinations, friendly crew, and top-notch entertainment.
Where Does Virgin Voyages Sail?
Virgin Voyages sails to a variety of destinations around the world, giving you the flexibility to choose the perfect trip for you. From sandy beaches in the Caribbean & Greece to bustling cities like Barcelona, the options are endless. 
What's Food Like On Virgin Voyages?
When you set sail with Virgin Voyages, you can expect an incredible dining experience. With a variety of restaurants and cafés onboard, you'll be spoilt for choice when it comes to food options. Whether you're craving international cuisine, traditional dishes, or even vegan and vegetarian options, Virgin Voyages has something to satisfy every palate.
One of the highlights of dining on Virgin Voyages is the unique concept of no buffet lines. Gone are the days of overcrowded, self-service buffets. Instead, you'll be treated to a culinary journey where all the food is made to order. From the freshest seafood to mouth-watering steaks, every dish is prepared with passion and attention to detail.
Another great thing about dining on Virgin Voyages is the inclusivity. All the dining venues are included in your fare, so you can eat to your heart's content without worrying about additional charges.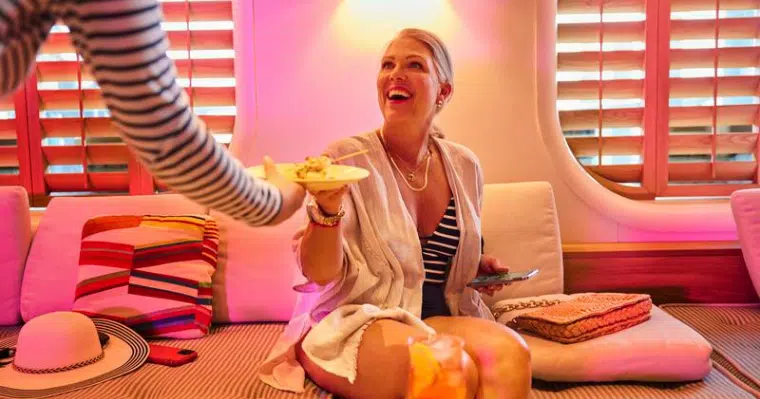 How Much Can I Save?
With the Virgin Voyages NHS discount, you can save a significant amount of money on your next cruise. The discount allows you to enjoy exclusive savings on your dream holiday, making it even more affordable and accessible for NHS staff members. By applying the Health Services discount code during the booking process, you can unlock attractive discounts and special offers, giving you the opportunity to save money while still experiencing a luxurious and unforgettable holiday with Virgin Voyages.
Savings will depend on the cruise so get in touch with our Cruise Gurus to find out more.
This is offer is only available from Rock The Boat. Get in touch to find out more.
How Can I Get My Virgin Voyages NHS Discount?
If you're an NHS staff member, getting the discount on Virgin Voyages is simple and easy. All you need to do is click here to start your adventure.
It's a hassle-free way to save money on your next cruise, allowing you to enjoy all the luxury and excitement that Virgin Voyages has to offer at a discounted price.
Start saving on your Virgin Voyages holiday with this exclusive NHS deal.
ATOL Protected Cruises
Putting You First
As part of Travel Counsellors, we offer peace of mind and are ATOL protected. Established back in 1994, we're now one of the UK's largest independent travel companies. Our mission is to bring you exceptional customer service & unbeatable value for money.
Plus, we're always here to help – our 24 hour duty office means you can always get in touch with us no matter what time of day or night it is. It's good to know you're in safe hands when you cruise with us.
Is My Money Safe With You?
Your holiday is ATOL protected. Plus, 100% of your money is safe and sound in an independently managed fund. So even if something were to happen to us, your money is protected.
Do You Have Good Reviews?
Your feedback means a lot to us, and we're so glad that you've found our service top-notch. But don't just take our word for it! Our Trustpilot rating speaks volumes as well: 5 stars from over 5221 happy families. In fact, we have one of the highest ratings of any travel agency, anywhere.
Review Page
Exotic Trip Exploring Asia
I can rely on Martin to always come up with great options, places we haven't heard of but keep on brief and within budget.
Emma C
Disney Holiday
Putting this very simply. I just couldn't have done my family Disney vacation without Martin. He is fabulous at every turn and never leaves a question unanswered even for this very nervous post Covid mum ! This time has been fab and so were the last times too!
Kay B
Caribbean Cruise
Martin in excellent always comes up with some really good ideas for a holiday. I would definitely recommend him to my friends and family.
Rebecca M
Honeymoon Help
10/10 Martin took the time to go through potential destinations for our Honeymoon when we laid out what we wanted. He was so friendly and knowledgeable about it all and followed up with a detailed list of 3 options – complete with videos – explaining this thoughts on each option. He also made sure that the transfers and everything else we needed were arranged well in advance as we were traveling with an 8-month old. We had a brilliant time at our resort on Honeymoon. Would highly recommend Martin
Richard V
Who are Rock The Boat?
We've helped thousands of people save money on their holiday and we want to help you too! Our highly rated team provide first-class customer service and expertise when it comes to booking blue light card discount cruises.
Founded back in 1994, Travel Counsellors is one of the most respected names in the travel industry. Your holiday and money are 100% safe with our independent Financial Trust and ATOL bond offers protection on every single part of your booking. Plus, we're rated an impressive 5 stars on Trustpilot too.
Be informed about the safest and most flexible travel options in uncertain times — we've been named moneySavingExpert's number one travel company for customer protection during COVID-19, and have been rated green for covid flexibility on the Which? holiday checker.
That's enough about us, let's talk about you and your cruise
What Will You Do If Something Goes Wrong?
Sometimes, even the best laid plans go wrong.
How would you feel if your flight was cancelled? If you've booked your own flights, pretty worried I'd imagine. The good news is if you're a smart traveller and booked with us, don't worry!
MoneySavingExpert voted us the best travel company for looking after customers during COVID twice
Start Your Adventure
Let's get to know each other a little bit better.
If you already know the cruise you want to book, we'll send you a personalised quote with your NHS discount included. Just fill in the form below.
Not sure which cruise is for you? Fill out the form below and one of our Cruise Gurus will be happy to help.