Disney Magic Cruise Ship Review – Sailing Around The British Isles
In September 2022, I had the chance to go on the amazing Disney Magic cruise ship, and I must say that it exceeded all of my expectations. From the moment I stepped on board, I was greeted with friendly staff (Cast Members), delicious food and a magical atmosphere. The ship was extremely spacious and its amenities included everything from basketball courts to spa rooms. The entertainment options were also great, with shows and dance nights available every evening.
As a former Cast Member at Disneyland Paris, I was very interested to see how the Disney Magic was compared to the theme parks. Some of our other cruise experts have already sailed with Disney and gave me lots of good tips and advice.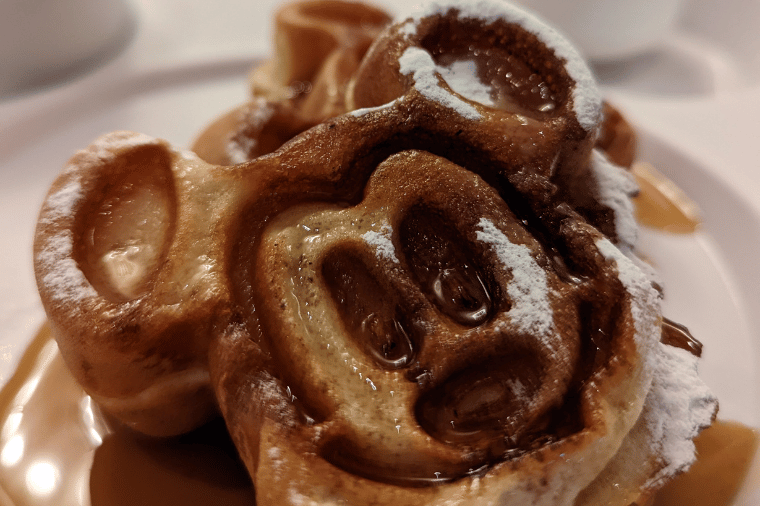 Delicious Disney Dining
Disney Cruise Line offers a unique and exciting way to enjoy different dining experiences on board – rotational dining. Guests can enjoy a different each night as they rotate to one of three exclusive restaurants, all featuring elegant décor and first-class service. Plus, your waiters come with you too so there was always a ginger beer waiting on the table for me.
The Disney Magic cruise ship offers a variety of delicious dining experiences for guests. Whether you're looking for traditional buffet-style fare or mouth-watering dishes from specialty restaurants, there's something to suit everyone's tastes. From the award-winning Animator's Palate restaurant to the adult-only Palo restaurant, each eatery has its own unique atmosphere and menu. Plus, room service is available if you fancy a late night snack!
Eating at Animator's Palate is an unforgettable experience and was my favourite place to dine. This unique restaurant immerses you in a world of animation! The menu includes something for everyone with a variety of delicious starters, mains and desserts. As you enjoy your meal, Animator's Palate comes alive with vibrant colours sketching the walls and lively waitstaff. I won't spoil the surprises!
Meeting Disney Characters Onboard
Going on a Disney Magic cruise ship is an unforgettable experience for kids and adults alike. A highlight of the trip is meeting your favourite Disney characters!
If you've tried to meet Disney characters in the theme parks, you already know the queues can sometimes stretch to up to 2 hours to meet a Princess. Luckily onboard, the queues are much shorter.
Characters will come out in the Atrium Lobby to take pictures with guests at different times throughout the day. Meet Mickey Mouse as he greets passengers on embarkation day! Or say hello to Pluto as he races through the ship every now and then. With so many characters to choose from, you'll have a blast saying hi to all of them aboard the Disney Magic cruise ship!
Plus, there are now characters from Marvel and Star Wars to meet too!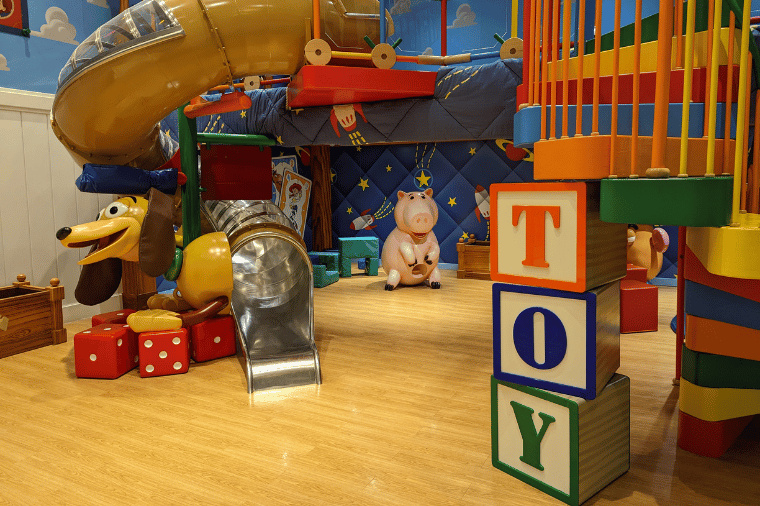 Kids Rule On A Disney Cruise
The kids clubs onboard the Disney Magic cruise ship are a blast for all ages. Kids of all ages can have fun playing with their favourite characters, making new friends, or getting creative in exciting activities. The Youth Clubs are divided into three age groups: younger than 3, 3-11, and 12- 17. There are also special clubs just for teens that provides them with social space to hang out and take part in teen-only activities. With movies, music, art projects, shows, and more there's something to keep everyone entertained aboard the Disney Magic cruise ship!
And yes, I did get a chance to go down the slide.
Shows & Entertainment Onboard The Disney Magic
The Disney Magic cruise ship offers an array of exciting performances that you won't want to miss out on. There's something for everyone, from upbeat musicals perfect for all ages to a breath-taking retelling of the movie Tangled. Each show is carefully crafted and expertly performed, captivating audiences of all ages with its energy and enthusiasm. In addition to musical theatre productions, the ship also hosts special guest speakers, comedians and other entertainers throughout the voyage.
Whilst all of the shows were high-quality, there was one which I found a bit too cheesy for me.
My favourite was Disney Dreams: An Enchanted Classic. Join a young girl on her journey of self-discovery as she is visited by beloved characters such as Peter Pan, Minnie, and Mickey. This delightful show features scenes from many popular musicals with classic Disney characters like the Genie from Aladdin, Mary Poppins, and Rafiki accompanying them throughout their journey. Original songs as well as music from Peter Pan, The Lion King, and Aladdin will make this an unforgettable experience!
I also enjoyed watching Beauty & The Beast from the comfort of the jacuzzi spa pool on the top deck. It was a nice way to spend some time and unwind. I also forgot how good the film is!
I love a quiz and there seemed to be a million of them every day. Some were harder than others including a particularly difficult one about Disney Villains. If you're not a Disney-buff, there are various general knowledge and music quizzes in the pub. They're more aimed at an American audience, but there were enough generic ones that I could take part and not have to know too much about the NFL and cheerleading.
What I Didn't Like About The Disney Magic
Paying for WiFi, tips and finding a soft drink – these are the 3 things that I feel let down the ship.
More cruise lines are either including unlimited WiFi or at least a small package as part of your booking. If you're sailing around Europe, have roaming included and will be in-port most days, it's not so much of a problem. If not, it's quite expensive for pretty slow WiFi.
Tips are something I personally don't like, but it is pretty normal on most American cruise ships. The whole presenting pre-paid tips in envelopes to your wait staff might not sit too comfortably with some Brits though. Personally, I prefer cruise lines such as P&O and Virgin Voyages where tips are either included or not required as they pay their crew a better wage.
As I was sailing around the UK, the weather never got too hot. Soft drinks such as Coca-Cola products are included, but only from selected places. When you're in buffet or table-service restaurant, the drinks are free. If you're up on the top deck, you can use the drinks fountains for free. However, order a Coke Zero at the bar and you're charged for it and there's also a 18% tip on top too. I found it odd that the only place I could get a soft drink around the clock was on the top deck. This is fine when the weather is good, but I wouldn't fancy going out to get a drink during a thunder storm.
Ok rant over.
My Overall Impressions
I enjoyed my week sailing onboard the Disney Magic. In some ways, such as the character meets, it's different to other cruise lines. In others, it's quite similar. And in some ways, it's not as good as others (sorry, the food is better on NCL & Virgin Voyages)
Overall, the Disney Magic is a brilliant cruise ship for families and those who love a bit of Disney fun and imagination. If you've been to and loved the Disney theme parks, I think you'll enjoy your time onboard the Disney Magic.
If that's made you start dreaming of your own Disney cruise, speak with one of our cruise experts who'll be happy to help you.