Disney Cruise Line: The Solo Traveller's Guide to Going on a Disney Cruise
Ah, a solo Disney Cruise – the stuff of dreams. But if you're an adult travelling solo (just you!), it may also be the stuff of nightmares!
As you board the Disney ship, surrounded by families with their young children in tow, you can't help but feel like everyone is judging your solo cruiser status. You start to worry that maybe this isn't such a good idea after all. What if no one wants to talk to you? Will you make any friends? Will other adults think you're weird for being alone? Disney cruises cost a lot of money, maybe you're better off staying at home watching movies?
Don't fret! With some careful planning and open-mindedness, your solo Disney trip will be nothing less than magical.
The Ultimate Guide to Solo Cruising with Disney Cruise Line
What is a Disney Cruise?
Disney Cruises currently operates five incredible Disney ships around the world. The Disney Magic, the Disney Wonder, the Disney Dream, the Disney Fantasy and the Disney Wish. The first two ships, the Disney Magic and Disney Wonder were launched in 1998 and 1999 respectively. The Disney Wish was only launched in 2022 and currently sails from Cape Canaveral near Walt Disney World to Castaway Cay. The Disney Wish, Disney Wonder and newer ships feature Marvel & Star Wars characters and themes too.
Some other ships such as the Disney Dream and Wonder explore other parts of the world including Mexico.
My First Solo Disney Cruise
In September 2022, I set off on a magical trip around the UK aboard one of Disney Cruise Lines ships, the Disney Magic – my first time sailing with them!
I've visited each and every one of their resorts across the world and love Disney. Being an ex-Cast Member (Disney jargon for employee) allowed me to even more intently examine how these cruises differ from their theme parks.
I've taken a cruise solo before on other cruise lines and also wanted to compare Disney ships to others. I was surprised how many adults there were onboard too. At times, it felt more like an adult only cruise – fantastic!
On most cruises, the majority of your fellow guests will be from the US. Generally, Americans are quite outgoing and will strike up conversation with anyone. It was easy to chat and make new friends at activities such as the quizzes. I was told 3 times on my cruise that I looked like Dana White (he's a lot more muscular than me!).
Preparing To Take A Solo Disney Cruise
Preparing for your time at sea on a Disney Cruise Line can be daunting, but with some careful planning and open-mindedness, solo cruising can be an incredibly rewarding experience. Before you even board the ship, take some time to research all the ways solo travellers can make the most out of their cruise.
Speak with one of our cruise team who'll be happy to help.
They'll help you find the perfect place to sail from, pick the best staterooms and most importantly, make sure you have a good time. If it's your first time cruising, we're here to help you.
Navigating Around The Disney Ship & Making Friends Along The Way
One thing to note is when you first get onboard the ship, you're welcomed with an announcement. I think many British people find this a bit OTT and I was a little bit embarrassed, but it's all part of them trying to welcome you onboard.
On embarkation day, there's usually a ship tour to help familiarise yourself with the layout. Head to the meeting point for the tour for an hour or so finding out about life onboard, the food, where to meet Disney friends and just as importantly, where the chocolate cake is. I found it a great way to see more of the ship whilst also meeting some lovely Cast Members too.
If you've been on another cruise ship before, you should find it quite easy to navigate around the ship. Like most ships, the pool deck is on top of the ship. The buffet restaurant is to the back and the theatre is at the front on the lower decks.
You Need The App!
The super easy app is a must-have too as it has all of your daily activities. Some activities sell out quickly such as the wine tasting so booked as soon as you can.
Cruising alone doesn't mean cruising and not speaking to anyone – there are plenty of ways to meet new people onboard Disney Cruise ships.
From dance classes, trivia nights to wine tasting, solo cruisers can take advantage of all the activities available to meet and interact with other travellers.
Head to the adults only bar too for a good time and to make a new friend.
Exploring Ports Of Call At Your Own Pace With Shore Excursions
Exploring new countries can be one of the most rewarding experiences a solo cruiser can have. Disney Cruise Line provides travellers with the perfect opportunity to take in all the sights, sounds and cultures of each port day by organising shore excursions or Port Adventures as they call them.
Whether you want to go off-roading in the mountains, learn how to make traditional cuisine, or just take some time to relax on a beach and soak in the sunshine solo – there's something for everyone! The excursions can cost quite a bit so it's something to factor into your budget.
My Cruise Excursion
Even though I'm British and sailing around the British Isles, there were places I had never visited such as Cork & Belfast. When I was in Belfast, I booked an excursion exploring the city and it's colourful history. It was a great chance to meet locals, learn more about Belfast and also to meet fellow guests.
Remember to book your excursions early too as some will sell out quickly.
Of course, on a port day, you don't have to go ashore. On the first port day, I stayed onboard, went to the Senses Spa, ate at the Cove Cafe (the chocolate is a dream), watch a Disney movie from the spa pool and ordered room service.
The Senses Spa offer day passes that cost around $39 per person for access to the spa. You pay for everything onboard with your cruise card.
Making The Most Out Of Your Solo Disney Dining Experience
You could eat almost all day if you really wanted too. Remember, calories don't count on vacation! You can burn it off on your shore excursion and start to watch your weight when you get back to your "normal" life.
On a Disney cruise, night time dining is handled differently than on other cruises. There are no main dining rooms for example. Main dining rooms are replaced with highly theme restaurants such as Animator's Palate.
Each night with Rotational Dining, you'll dine in one of three restaurants – with your waitstaff coming with you every evening! How convenient; my drinks server knew I enjoyed ginger beer, so they had one ready for me at dinner nightly. He could also suggest food I might like too. Talk about service that makes cruising even more magical!
Need any help?
Make sure you let us know in advance if any person has a dietary requirement such as gluten free or vegan. Disney can make food to meet your needs so you can eat and have a great time at sea. Not sure what to eat? Just ask your waiting staff for suggestions
Meeting New Friends
Disney is the perfect destination to make friends while travelling solo! They have the amazing initiative of seating guests who are alone together at each restaurant. This was how I met two ladies from England and some wonderful Americans on my trip – we all were on our own journeys but enjoyed dinner, entertainment, and nights out in the piano bar and theatres together every day. Disney won't put solo travellers on a table with kids too.
Our conversations mainly revolved around the days excursion. Plus also Disney movies, chocolate and other ships we'd been on such as the Disney Wonder.
If you fancy some alone time one night instead of dinner, order some room service and put on a Disney movie in your stateroom. Either way, you'll have a great time.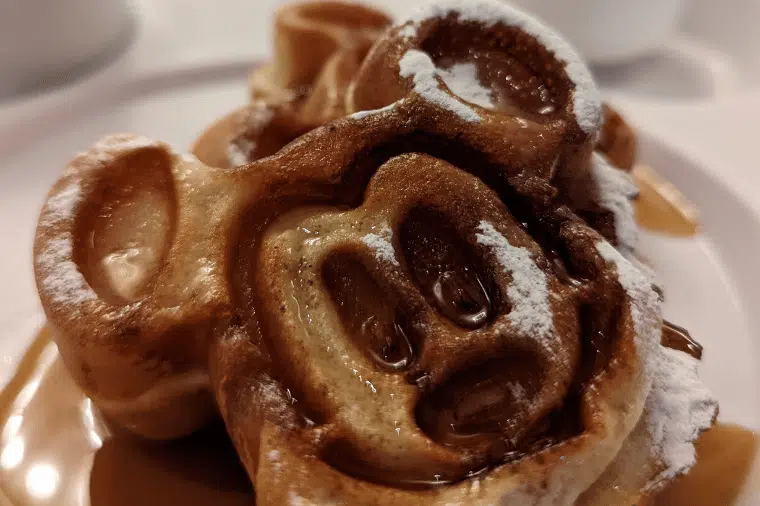 Don't Be Afraid to Meet The Disney Characters Alone
Meeting Disney friends isn't just the stuff kids dream of. If you're a solo traveller cruising with Disney Cruise Line, there's no need to be nervous about meeting the characters on board!
Sure, it might feel a bit silly or embarrassing to take pictures solo with Mickey or Minnie, but that's part of the fun. You'll never know who you might meet along the way as you join in the fantastic fun!
And don't think it's just for the kids! You have just as much right to meet the characters as kids do. Characters are out both day and night.
I preferred to meet the characters later at night when there were less kids around and the waiting time was shorter too.
Solo Disney Cruise FAQ
Can you go on a Disney cruise by yourself?
Yes, everyone is welcome onboard a Disney Cruise.
Are Disney Cruises fun for adults?
Yes, adults will find plenty of activities to enjoy onboard. From the spa and fitness centre, to movies and Broadway-style shows, there's something for everyone! There are also plenty of bars, clubs, lounges and restaurants to choose from.
Which ship is the best for adults?
All of the Disney Cruise ships are designed for both families and adults alike.
Is a Disney Cruise just for kids?
No, it's not just for kids. There are plenty of activities and entertainment options to enjoy while cruising on a Disney Cruise, including Broadway-style shows, movies, Senses spa treatments, specialty restaurants and more.
Can you go on a Disney cruise by yourself?
Yes, all travellers are welcome onboard a Disney Cruise. You'll have plenty of opportunities to make friends and enjoy all that the cruise has to offer. Plus, solo passengers can take advantage of solo activities and dining experiences for an extra dose of solo fun!
Does anyone go to Disney alone?
Yes! Cruising solo is surprisingly popular.
How much is a Disney cruise for one person?
Tips for Cruising Alone With Disney Cruise Line
Cruising solo with Disney Cruise Line can be an incredibly rewarding experience. Here are a few tips to make the most of it:
Research all the solo activities and dining options available onboard before you arrive.
Let your travel agent guide you with suggestions. They have insider knowledge about how to make your cruise even better.
Take advantage of all the solo activities onboard to meet fellow solo cruisers.
Explore new destinations with Port Adventures and get to know the local culture.
Make sure you take a tour of the ship on embarkation day.
Enjoy yourself and don't be afraid to meet new people – solo cruising can be just as exciting!
So, Is It OK To Sail Solo On A Disney Cruise?
Cruising solo is an amazing experience and you'll be staying in a beautiful, safe environment. With great entertainment, activities and lots of solo-friendly experiences available each day, there's something for everyone on their solo cruise adventure.
If you love Disney, Disney movies or theme parks then you'll love your time onboard a Disney Ship. So don't worry if you're making your solo cruise journey with Disney Cruise Line – you can be sure of a magical voyage! We're experts helping first time sailors.
Overall, I highly recommend solo cruising with Disney Cruise Line. It's a great way to meet new people, explore new cultures and make lifelong memories. Happy travels!
Speak With A Disney Cruise Expert
If you're thinking about taking a Disney Dream, Disney Wish, Disney Magic, Disney Fantasy or Disney Wonder cruise, speak with our Disney Cruise experts who'll be happy to help you with your solo trip.
Our most popular trips are a few nights at the Original Disneyland coupled with a Disney cruise to Mexico or the classic Walt Disney World and Castaway Cay