Taking A Cruise With A Baby
Are you ready to embark on a cruise with your baby in tow? Cruising with a baby can be an amazing experience for the whole family. But if you're not prepared, it can also be overwhelming. To make sure your family cruise is as smooth and enjoyable as possible, there are a few things that you should know ahead of time.
One of the main considerations to take into account before booking a cruise with a baby is the type of ship you choose. Most large luxury cruise ships have nurseries and special activities specifically tailored to children, so if your baby is under three years old, this is probably the best option for you. However, some family-friendly cruise ships may have more limited options, and you'll need to do your research to make sure you're choosing the right one.
Here are our cruise tips to sailing with a baby on a cruise
Let's split everything into two groups – adults and just a baby or adults with kids and a baby. When you're travelling with just 1 or 2 (or even 3 babies), that'll be a different experience and set of needs than travelling as part of a family with older kid
Cruising with a baby – is it possible?
You've heard all the horror stories about cruising with a baby: the sleepless nights, the constant crying, and the exhaustion of trying to keep them entertained. It can seem like an insurmountable task – how do you even begin to entertain a child on a cruise ship? But it doesn't have to be as hard as people make it out to be. With some preparation and planning, taking your baby on a cruise can actually be quite enjoyable for both of you!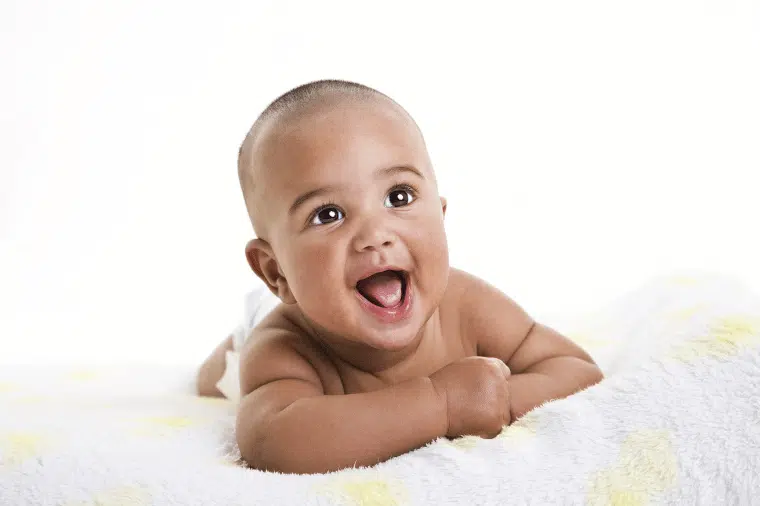 Is there a minimum age to bring a baby on a cruise?
Even the youngest of your little ones can accompany you on most cruise lines. Most family-friendly ships permit babies as young as six months old. MSC Cruises have no minimum age for sailing. There are a few exceptions on cruises with quiet a few sea days and extra age restrictions might apply.
What are the best cruise lines for babies?
If you're cruising with a baby, Disney Cruise Line Norwegian Cruise Line and Royal Caribbean are three of the most family-friendly cruise lines. On both of these ships, there are on-board nurseries that provide childcare services for babies as young as six months old. Other cruise lines, such as P&O, Princess Cruises and Celebrity Cruises, also provide childcare services specifically tailored to younger travellers.
Plus, there are promotions where kids sail free or for a reduced price too.
What activities are available for babies on a cruise?
Most major cruise lines offer a range of activities specifically tailored to babies and young children, such as story time and dancing lessons. Depending on the ship, there may also be special baby-friendly amenities such as playgrounds, swimming pools and even an onboard nursery
Which cruises should I avoid with a baby?
Firstly, some cruise lines or ships don't allow any child. Secondly, avoid any cruise line that doesn't have childcare facilities onboard – you don't want to be stuck without anything for the kids while you enjoy adult time. Also avoid cruises without child-friendly activities or areas, as these may not provide enough entertainment and engagement for your little ones.
Also avoid party cruises. These are full of people just there to let their hair down and not very baby friendly.
Virgin Voyages is an example of a party and adults only cruise line so you'll have to leave your little ones at home. Likewise, MSC & P&O both have shorter "party" cruises lasting 2 or 3 nights usually from Southampton. Speak to one of our cruise gurus who can help you avoid these types of cruises.
How can you help me find a cruise?
We know you've got your hands full with your little one and probably don't have much time (or energy) to trawl the internet looking for a family cruise ship.
That's why we at Rock the Boat are here to help you. With our years of cruise experience, our team of cruise gurus can help you identify the best family friendly cruises for your baby. We'll take into account the length of the cruise, onboard facilities and activities, and safety ratings – so you can relax knowing that everything has been taken care of.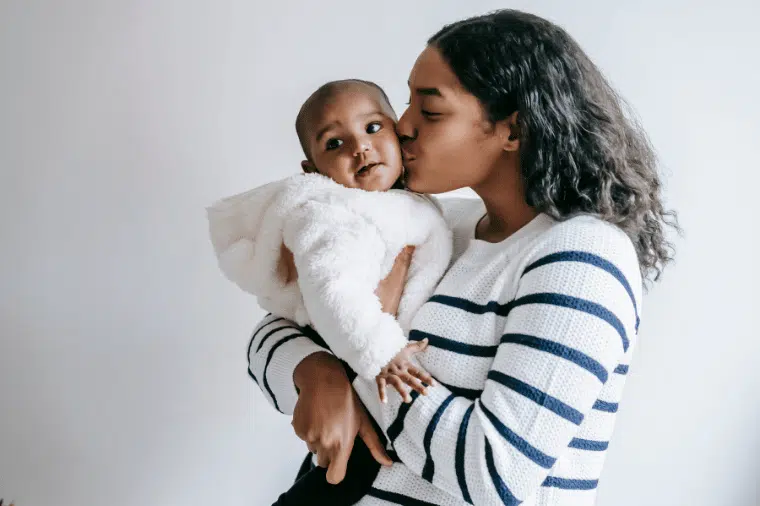 Isn't it more expensive and more hassle to use a travel agent?
Not at all! In fact, using a travel agent like Rock the Boat makes planning your cruise easy and affordable. We have access to exclusive deals on cruises, so you can get the best prices available.
And the best part is, you won't pay a penny more than booking directly with the cruise lines. This is because cruise lines pay us to help you book your perfect cruise – pretty sweet deal for you.
So you can either do everything yourself, spend hours on hold and speak to a different person every time and lose the will to live. Or have your own personal cruise guru who'll help you all the way through from finding and booking right up until you get home. I know which one I'd pick if I had a baby!
Tell us a bit about yourself and what you're looking for. Your cruise guru will be in touch to start helping you out.
Which cabin is best for babies?
If you're travelling with a baby and no other children, the answer to this question really depends on what activities your infant will be participating in and how much space you need. Most cruise lines offer cabins that are baby-friendly – they may come equipped with cribs or high chairs, or even a separate sleeping area for the little one.
Cabin closet space tends to be a bit limited too.
There are 2 schools of thought. The first is to go with an inside cabin.
Inside cabins pros
Cheaper than outside or balcony cabins
Don't need to worry about the sun still shining when your baby is trying to get to sleep
Inside cabins cons
No view or natural light
May feel more cramped with all of your extra supplies and baby essentials
The second school of thought is to opt for a room with a balcony. Balcony cabins pros
A balcony can offer a great place to relax, maybe enjoy a glass of wine while your sleeping baby rests in the cabin
The additional room allows you to spread out more and store all of your extra items
You can also bring some fresh air into the cabin if needed
Balcony cabins cons
More expensive than inside cabins
You'll need to be careful about leaving the door open while your baby is sleeping as it could get too hot or cold
What cabin is best for a family when cruising with a baby?
A family cabin on many cruise lines usually means slightly bigger rooms and also closer to the kids clubs (sometimes you can be there in about a minute). The same applies to whether to book and inside or balcony cabin as above. If you want your little ones to be able to sleep whilst you enjoy a glass of wine or some room service, it might be worth splashing out on a balcony cabin.
On most family cruise ships, interconnecting cabins let your kids have their own room and space. It's a great way of giving everyone more space and privacy. Family cruising is more popular than ever now.
No matter what type of cabin you choose, make sure to bring along some items from home. This can include a sound machine, extra blankets, and any special toys that your little one loves. Most cruise lines also offer nursery services for infants, so be sure to check that out too!
Can babies use the swimming pools?
Cruise ships usually restrict babies and toddlers who are not potty-trained from entering the swimming pools or Jacuzzis. Nonetheless, P&O Cruises offers family friendly services which allow kids in swim diapers to enjoy designated swimming areas. Other cruise lines even have splash parks where you can use nappies or swim diapers! So don't let this stop your little ones from having all that aquatic fun on board a ship!
Many cruise ships have swimming pools specifically designed for toddlers, as well as a baby splash zone, splash pads and shallow water play areas. These are perfect for your little ones to splash around in and cool down on those hot days.
If you're cruising with a baby that's under 3 years old they may be able to use the main pool too but you'll need to check with your cruise guru as some have restrictions on usage. In any case, babies should be supervised at all times and appropriate swimwear such as swim diapers and nappies must be worn when in the pool.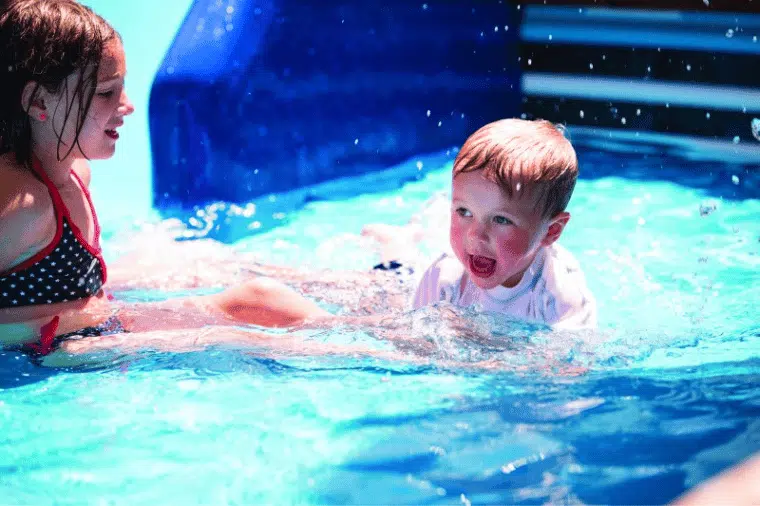 Do kids have to be potty trained?
All cruise lines have different requirements when it comes to potty training. Some cruise lines require that children be completely toilet trained, while others may only ask that they are working on this process depending on the age and what you want to do.
It's important to check with your cruise line regarding their specific policies. Speak to one of our cruise gurus for more information.
Do I need to bring my own baby food?
Most cruise lines offer a variety of baby foods, so you should check with your cruise line what provisions they have. Some cruise ships will even provide you with special requested items such as formula and breast milk for your infant.
If you prefer to bring your own baby food, make sure it is properly sealed and stored safely in your cabin.
Does a baby need a passport for a cruise?
Yes, all passengers including babies must have a passport and visa if required, so make sure you get this sorted well in advance. You may also need to provide birth certificates or other forms of identification depending on the cruise line. It's worth checking with your cruise line to see what kind of documentation is needed before you travel.
Can a baby eat in the main dining room?
Yes! Many cruise lines allow babies to join their parents in the main dining room and they even offer special menus and baby food for infants. There are also some ships that have family-friendly restaurants which can be a great option if you want to dine with your baby in a more casual setting.
The majority of cruise ships have a few main dining rooms and there might be one that's better suited for babies. They'll make sure you're in an appropriate restaurant with high chairs.
Some parents like to pack baby food and ask for it to be heated up by their server.
Cruising with a baby doesn't mean you can't go and have a wonder meal. If you're thinking about going to a speciality restaurant, a good cruise tip is to feed your baby at the buffet or elsewhere first. As it's an experience, it can be a long and drawn out meal that might bore younger sailors. This might be a good time to take advantage of any kids clubs for the evening.
Do I need to bring my own travel crib or stroller?
Some cruise lines provide travel cribs free of charge, so you may want to check with them first. If your cruise line doesn't offer a travel crib, you may need to bring yours along. You can also bring your own stroller as well if you would like, however some ships have strollers available for rent or loan.
Is there somewhere to wash baby clothes?
Most cruise ships have laundry services that you can use. Some may even offer special baby laundry bags for parents, so you don't have to worry about washing those tiny clothes! If your cruise line does not provide such a service, there are usually laundry machines on board the ship that you can use.
Alternatively for a quick wash, use the cabin sink.
Can I bring breast milk onto a cruise ship or flight?
As long as it is in a sealed container and labelled with your name, you can usually bring breast milk in carry-on luggage if you're flying to meet your cruise ship. You may be asked to taste the milk for security purposes, so make sure you have some on hand if necessary.
Can babies go on shore excursions?
This will mainly depend on what your shore excursion entails. There may also be minimum ages for some excursions too. There is a desk onboard dedicated to just shore excursions and the team can help you too.
When you're cruising with a baby, you need to consider what you'll do when you're in a cruise port. You don't always have to go ashore too. It's a nice time to relax and enjoy the cruise ship when it's a bit quieter.
Is Disney Cruise Line good for babies?
Disney Cruise Line is one of the most family friendly cruise lines out there and is one of the best cruises you can take with your baby.
Onboard, you can find several nurseries and playrooms for babies and toddlers, as well as plenty of children's activities to keep them entertained including meeting Disney characters.
Plus, Disney Cruise Line also offers a night nursery service for babies aged 6 months and up. These nurseries are staffed with experienced attendants that can provide fun activities and care while you enjoy your nights out onboard.
Ships such as the Disney Magic, Disney Dream and Disney Wish all have brilliant facilities for very young children.
Is Norwegian Cruise Line good for cruising with a baby?
Norwegian Cruise Line is another great cruise line for families travelling with babies and young children. The NCL ships offer a range of infant-friendly amenities, such as child-safe seating in their restaurants, cribs or cots in rooms, changing tables in bathrooms, and several onboard nurseries staffed by qualified caregivers.
In addition, Norwegian Cruise Line offers evening babysitting services for a nominal fee, giving parents the freedom to enjoy their evenings onboard without worrying about their baby.
If you're sailing with older children and sharing the same room, it's worth taking the Free at Sea upgrade.
There are some cruise ships that are better than others for babies. Speak with one of our cruise gurus who'll be able to help you find the perfect baby cruise ship.
Is MSC Cruises good for babies?
MSC Cruises is another cruise line that caters well to children and babies. Many of the MSC ships have a range of facilities for families with young children, such as nurseries, playrooms, pools, water parks and kids clubs. You can also find plenty of fun activities onboard MSC vessels designed just for kids. If you're travelling with older children as well as a baby, MSC could be a great option. Some of their best cruises are available from Southampton too saving you the extra cost and hassle of flying.
Is Celebrity Cruises good for babies?
Celebrity Cruises offer a range of facilities for babies and young children. Onboard, you'll find cribs or cots in rooms, changing tables in bathrooms, and Baby Welcome Kits including a disposable nappy pail liner and more.
Plus, Celebrity Cruises also offer babysitting services so parents can enjoy some time away from their little ones. On select ships, you can also take advantage of the onboard nurseries where experienced caregivers will look after your baby while you explore the ship.
Is P&O Cruises good for babies?
P&O Cruises are great for babies and cater to families looking for a cruise experience with an infant. Onboard, you can find a range of amenities such as cribs or cots in rooms and changing tables in bathrooms,
Most cruises depart from Southampton so there's no need to fly too.
Be sure to take advantage of the complimentary Night Nursery, exclusively offered at The Reef! It's open from 6pm until 2am and is available for children ages six months up to four years old.
For ages 6 months to 2 years old, a quiet place is created to let them sleep. With your little one being carefully supervised (their room temperature and other vital data are documented frequently) in a calm environment, you can rest assured that they're in good hands. Meanwhile, take advantage of this time to savour our spectacular dining and nightlife options! Parents are given pagers just in case their baby wakes up.
Is Royal Caribbean good for babies?
If you're looking for a cruise which is great for babies, then Royal Caribbean could be the perfect option. Onboard all of their ships, you can find a range of infant-friendly amenities such as cribs or cots in rooms and changing tables in bathrooms.
Plus, there are also several onboard nurseries where experienced caregivers will look after your baby while you explore the ship.
Cruising with your baby has been made simple and stress-free thanks to Royal Babies; Tots programme (ages 6-36 months). The programme offers a selection of age-appropriate activities and toys, all hosted by trained youth staff. As a result, parents can finally relax for a moment as their children are safely entertained!
If you're travelling with other kids, Royal Caribbean offers the Kids Adventure Ocean programme which caters to children of all ages. Teens can also join the Adventure Ocean programme, where they can take part in a range of activities and make new friends.
Please note that these services aren't available on these Royal Caribbean ships Adventure, Explorer or Jewel of the Seas ships.
Is the ship going to full of old baby hating people?
No, absolutely not! Every cruise ship is different and aimed at a variety of people. If you think cruises are all stuffy suits and retired people, think again!
We call this the Titanic Effect. It's when first time cruisers think it'll be just like in the film Titanic. Strict dress codes, cigars and champagne in a stuffy atmosphere.
The reality is far from that! Cruise ships today are full of fun, modern activities and there's something for everyone. You'll be surprised at how many like minded people you meet on board, regardless of age.
Cruise lines are catering to younger travellers and families with babies more now than ever, so you'll find plenty of fun-loving people onboard. In fact, while your baby will be the cutest onboard; they won't be the only one! You'll find plenty of other babies and children enjoying their time on the ship.
Do baby monitors work on a cruise ship?
Yes! In fact, a low volume baby monitor is a great way to keep tabs on sleeping babies while you and your partner enjoy some adult time on the balcony. Just make sure to bring along extra batteries for any wireless device. Also avoid any baby monitors that require WiFi as this can be very expensive.
What baby gear can I purchase onboard?
Most cruise ships will have a selection of baby goods onboard, like nappies, swim diapers, baby shampoo, baby wipes, baby food and other baby essentials. You may also find some special items like strollers or child car seats – but make sure to check with the specific cruise line beforehand.
It's usually better to bring your own baby equipment from home.
Top Tip – You don't have to leave your cabin to eat great food
Room service is great for busy parents as you can order meals, snacks, baby food and drinks without leaving your cabin. It's also a great way to keep the little one calm and happy, especially if they're overwhelmed by the hustle and bustle of the cruise ship. A happy baby means happy parents.
Some cruise lines include this as part of the cruise fare, but others charge a tray fee.
If you're dining with more than two adults, the tray fee will be waived.
Taking a baby on a cruise can be an amazing experience for the whole family. With today's modern cruise ships offering more amenities and activities than ever before, it's possible to have fun while ensuring that your little one is safe and comfortable. From nurseries to baby-friendly rooms, here are some tips to help make sure you have a great time cruising with your bundle of joy!